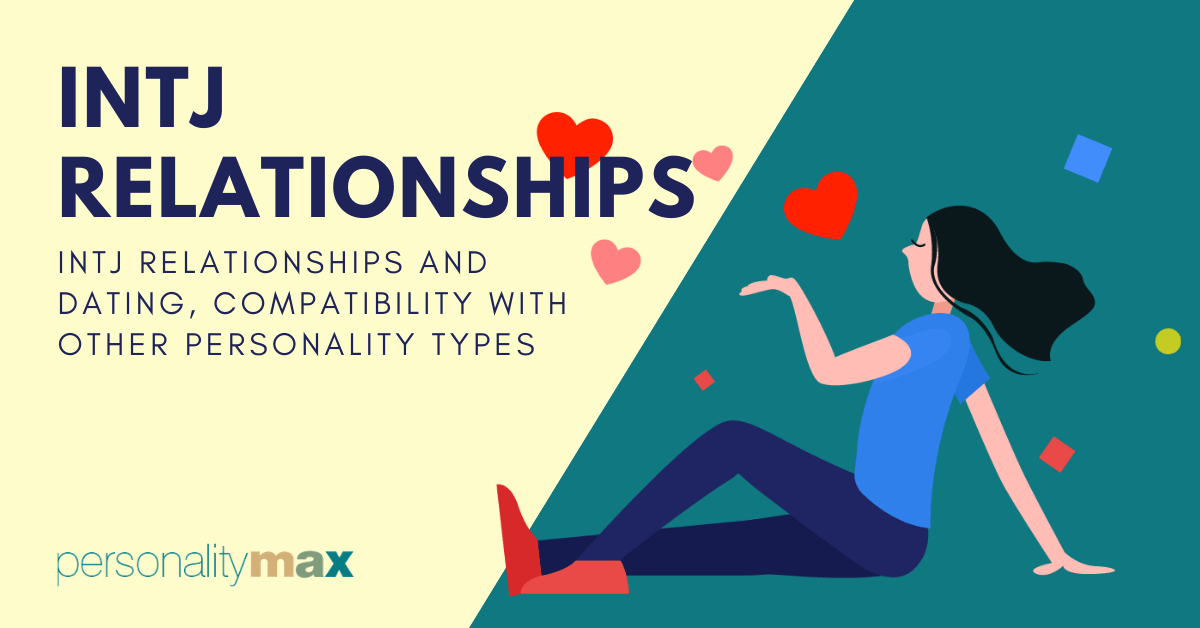 The Strategist stands out with its serious, analytical, and perfectionist nature. There is no other personality type who is more dedicated to achieving their goals than the INTJ. They are admired by many for their impressive intellect but are also known to push people's buttons. This article aims to explore the relationship between INTJ and the rest of the personality types through the perspectives of romance, friendship, and work. By the end of this article, you'll be able to answer:
What are INTJs like in a relationship?
Who is an ideal partner for an INTJ?
What INTJs want in relationships?
How to maintain a good work dynamic with an INTJ?
INTJ Relationships and Dating
In their personal relationships, INTJs strive for independence, both for themselves and for their romantic partner. INTJs take commitments very seriously and are loyal friends and partners. They always try to improve the quality of their lives and of others around them. The INTJ personality isn't typically prone to public displays of affection and isn't very touchy-feely with their friends or partners. This may sometimes lead to them being perceived as a little insensitive. On the other hand, their determination towards positive change and development is heartwarming, and if the same is applied to their relationships, it can act as a powerful tool for building a happy and healthy life.
INTJ Dating
Whether you're an INTJ reading this or you simply want to know more about the type, you should know that INTJs spend a lot of their time inside their heads. They often fantasize about how they want to live their lives and tend to detach themselves from reality. This personality type isn't always in tune with their feelings, meaning they tend to neglect how they feel and how others might feel because of them. Their confidence and self-esteem, as well as their creativity, are the most attractive qualities that draw people towards them. If INTJs learn how to express their feelings, they can build beautiful relationships, both in their workplace and at home.
INTJ Best Match
INTJs are highly intelligent, who at first glance, seem calm and collected. On the inside, however, they can be very emotional and intense about their feelings. INTJs are likely to stay in positive and healthy relationships and don't hesitate to leave if they are unsatisfied or faced with toxic behavior. The INTJ type is most compatible with a partner whose dominant function is Extroverted Intuition. The two most notable examples would be ENFP and ENTP. They form the most popular couple and even though they seem almost exact opposites, they can build healthy relationships with potential for mutual growth. Although, any two individuals who are willing to put in the work can maintain a happy and healthy relationship regardless of their personality type.
INTJ Compatibility
INTJs, as well as the rest of the personality types, follow a simple logic in terms of compatibility. When looking for a partner from any other type, they look at their dominant cognitive function. Reverse the direction for an introvert personality type, and look for an extroverted partner and vice versa. With INTJs, to maintain a good balance in a relationship, they should look for someone who isn't reserved and is a bit more laid-back than them. We're not talking strictly about finding the opposite, but rather someone who can compliment them, so that harmony and balance are created.
INTJ Compatibility Chart
To make things a little easier, we have created a chart containing all 16 personality types in relation to the INTJ type. They are grouped by the four temperaments and highlighted with different colors to show the level of compatibility between each type. You can get familiar with the color scheme and we can jump right into discussing their compatibility:
Blue – Types that are most similar to INTJs in terms of values, interests, and life philosophy.
Green – Types that are quite similar to INTJs but have intriguing differences, which can produce a healthy relationship with plenty of growth opportunities.
Yellow – Types that are somewhat similar to INTJs and could be compatible with them, but some work will be needed to make things work.
Red – Types that are poles apart from INTJs and are likely to clash with their personality. Relationships between these types will require a lot of work.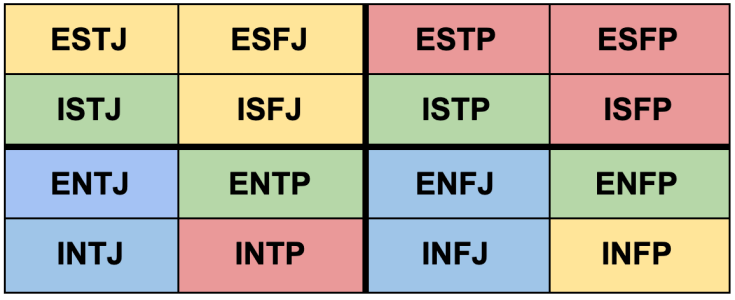 INTJ and ESTJ
ESTJ falls under the "yellow" category, indicating that these two personality types share similar worldviews, yet their differences may push them off balance. Some work will be required to maintain a peaceful relationship.
Relationship
ESTJ and INTJ have a lot in common – their commitment to meaningful and serious relationships, their desire to solve conflicts, and their ability to take criticism well. Yet just one significant similarity between the two that can potentially break the relationship – ESTJs have a deep sense of being right. They are of the mindset that, so long as someone listens to what they have to say, they will understand their point of view and will change their minds entirely and join the ESTJ's side. However, this can be a lot to ask from the rational and analytical INTJ, who usually have the evidence and facts to back up their arguments. Some compromise will be necessary if such problems arise in an ESTJ-INTJ relationship.
Friendship
ESTJs are funny, sharp, and witty. They like to be the center of attention and enjoy making people laugh. They also care a lot for status and like to be involved with people who have proven to be successful in society. In that sense, having an INTJ as their friend works perfectly in their favor. However, if an INTJ were to find out the real purpose for an ESTJ to pursue this friendship they would be unimpressed and would quickly abandon the friendship.
At Work
Among all the 16 personality types, ESTJs are considered the jack of all trades, as they have the potential to be really good at a lot of things. They put a lot of work into everything they do, similar to an INTJ. This makes their relationship compatibility extremely favorable. They have similar worldviews on how things should be done in a professional environment, and there's little that could start a fire between them.
INTJ and ESFJ
ESFJ type falls under the "yellow" category on the chart, indicating that these two share similar worldviews, yet their differences may push them off balance. Some work will be required to maintain a peaceful relationship.
Relationship
Even though ESFJs are family-oriented and unafraid of commitment, when in a relationship with an INTJ they may come to face some of their worst weaknesses. ESFJ wants to feel understood and appreciated for who they are and for everything they do for the ones they love. This may be a hefty task for INTJs, who are not the best at expressing their emotions. A potential situation of this sort could lead to conflict and things don't get any better. ESFJs aren't comfortable with criticism and want a smooth and easy relationship. They expect a partnership, so in the face of an INTJ's negative feedback, things could start to look bad.
Friendship
ESFJs are giving, helpful, and supportive in their friendships. They are genuinely concerned with the health and happiness of their friends and love being surrounded by people who appreciate them. One downside to having an ESFJ as a friend is that they can get a little too involved with the well-being of others, to the extent that isn't healthy for them. An INTJ might quickly feel like they're suffocating in this friendship and would instantly look to spend some time alone.
At Work
The ESFJ personality type is extremely organized and scheduled at work. They are attentive and don't have problems with systematic tasks that typically require hard work. ESFJs enjoy the stability of a 9-5 job and don't mind order and structure in their workplace. A work relationship between an ESFJ and INTJ would seem the least problematic, as every INTJ leader needs a hard-working and dedicated ESFJ.
INTJ and ISTJ
The ISTJ personality type falls under the "green" category on the compatibility chart. These two types have quite a lot of similarities, but at the same time possess enough differences to be able to learn from one another.
Relationship
INTJs and ISTJs have a lot of similarities and would most likely feel very comfortable when in a romantic relationship. ISTJs are good listeners, they are committed, loyal, affectionate but not clingy, they think logically and have zero issues with criticisms. If there's anything that could lessen their relationship compatibility, it's their shared belief that their opinion is the most important. These two personality types need to understand that they need to compromise to make things work, but considering their potential to understand each other very well, it's likely they'll quickly work things out.
Friendship
Even though ISTJs mainly have an introverted personality, they still enjoy having a bit of fun and spending time with friends. They like to be surrounded by extroverts (although not for too long) and they usually hide their own introversion behind the extrovert's outgoing persona. This exciting way of experiencing the life of extroverts can be taught to their INTJ friends and together they could feel privy to something secret and special.
At Work
If an ISTJ personality sets its mind to it, it can achieve anything. Their perseverance is the exact quality that INTJs love about them. ISTJs appreciate structured and orderly environments, so working with an INTJ would feel like a relief in comparison to any other personality type. ISTJs would do well in management and it's likely their INTJ bosses would want to quickly promote them.
INTJ and ISFJ
The ISFJ type falls under the "yellow" category on the chart, indicating that these types share similar worldviews, yet their differences may push them off balance. Some work will be required to maintain a peaceful relationship.
Relationship
To put it in simple words, ISFJs are intense and emotional. They care deeply for others and would go out of their way to make a relationship work. When they commit to someone, they usually think they have found their soulmate. As romantics, they are driven by their Feeling core. Even though they possess some very rational modes of thinking, they still prefer to make decisions from their heart rather than their head. They don't handle criticism all that well, and that makes them quite a difficult match for INTJs. However, if these two manage to find a mutual language, they can learn a lot about how to properly express their feeling, without overstepping each other's boundaries.
Friendship
ISFJs are more likely to confide in their friends than their family, and even though they aren't typically extroverted, they like to spend their time with a variety of people. They love to observe people's reactions and emotions and if they make really close friends, they start considering them part of their family. Because they respect people's opinions in regards to their problems, it might be difficult for them to digest the factual opinions of an INTJ. They are likely to seek emotional support, rather than a logical solution.
At Work
As Sensors, ISFJs experience their surroundings through all five senses, rather than their intuition. They take responsibilities seriously and like to create structure and order. When working with an INTJ, they might have trouble dealing with the overly controlling boss and constantly being told what to do. Fortunately, given their personality, they would quickly understand that sometimes, in order to do a job right, one has to listen to those who know better.
INTJ and ESTP
ESTP personality falls under the "red" category, indicating that this is perhaps a tough match and would require a lot of work on both sides to succeed in the quest for long-term harmony.
Relationship
ESTPs are witty, clever, and popular individuals. They strive to make everything enjoyable, but rarely find the right person by their side who can do the same for them. ESTPs possess the weaknesses of getting bored with their partner rather quickly and don't hesitate much to end the romantic relationship which they have deemed boring. They live in the present, and so aren't good at planning things ahead which can seem like they're flakey and unwilling to commit. INTJs look for something very different in a partner, and wouldn't be impressed by the ESTP's inability to settle down.
Friendship
ESTPs are outgoing and approachable and can make friends very easily. They are talkative, enthusiastic, and fun-loving. They somewhat have an intolerance for abstract and theoretical conversations. They are "doers" and don't like to spend time doing nothing. They like physical activity, say sports, and prefer to be doing something with their friends rather than having a passive approach towards life. Given their introverted personality, INTJs aren't exactly drawn to energetic outdoor activities involving many people. They have much greater plans for their time and wouldn't find much satisfaction in outdoor activities.
At Work
ESTPs have excellent people skills. They are considered to be specialists when it comes to personal relations and have a unique ability to read into people's motives and perspectives. ESTPs enjoy professions that would allow them to get involved with other people because realistically speaking, that's where they shine the brightest. ESTP an INTJ would make the most sense in a working environment, as ESTPs are service-oriented and could be excellent at providing the necessary people skills for a task executed by an INTJ.
INTJ and ESFP
The ESFP falls under the "red" zone, indicating that this is perhaps a tough match and would require a lot of effort on both sides to succeed.
Relationship
ESFPs live in the present, and don't spend too much time worrying about the future. They take life as it comes, one day at a time. That could be an issue for the future-oriented INTJ. An ESFP's spontaneity and unwillingness to commit could become exhausting and even annoying to an INTJ. They might even perceive it as immature, for INTJs don't have a lot of patience for this kind of behavior. ESFPs also have a tendency to care about what others think of them, which to the independent and self-assured INTJ could seem like a significant weakness in their romantic partner. ESFPs would also hate to be criticized about their mode of thinking, and would completely close themselves off and feel hurt, especially by the factual INTJ. Overall, this is a lot to process for both types, but every relationship requires work, and perhaps even these two could work it out.
Friendship
ESFPs are enthusiastic, popular, witty, and sensual. They want to make the most out of any moment in life. They have a "go with the flow" attitude and perhaps you can already see how INTJs wouldn't be ready to partake in their gregarious lifestyle. ESFPs want to have a good time, especially if they've been hard at work. Their idea of a break is a fun party with all kinds of interesting friends and even more interesting strangers. They want to have pure fun. They live their life as an adventure, and they want every day to be a story to tell the grandkids. INTJ's idea of a good time is the polar opposite to this worldview, as they simply couldn't keep up with this extroverted lifestyle.
At Work
ESFPs are born performers and entertainers. The most suitable career match for an ESFP (artist, actor, dancer) has little to do with an INTJs lifestyle or choice of profession. ESFPs dislike theory, long and detailed written explanations of things. They don't enjoy structure or routine, or any schedules for that matter. They simply want to have fun (did we mention that already?) and INTJs just wouldn't get this. And that's okay – because everyone is different and should be accepted for who they are.
INTJ and ISTP
The ISTP personality type falls under the "green" zone on the compatibility chart. This means the two have quite a lot of similarities, but at the same time possess enough differences to be able to learn from one another.
Relationship
ISTPs are good listeners, self-confident, and practical. They aren't threatened by criticism and wouldn't be upset if an INTJ spoke up about certain things they are unhappy with. They are optimistic and fun to be with and would leave INTJs with enough space and privacy. These two could have a very interesting romantic relationship, and here it's the INTJ that needs to compromise and allow the ISTP to have their freedom. ISTPs also referred to as the "The Craftsman", truly like to live in the moment. So in a sense, they're not just playing "hard to get", they're actually hard to tie down. If an INTJ truly appreciates the presence of their ISTP partner, they need to relax the control and their desire to plan out their future together and should learn to live in the moment.
Friendship
ISTP and INTJ would work just as well as friends as they would as a couple, if not better. Both personality types are likely to be focused on the present, as opposed to fantasizing about future possibilities. ISTPs are adventurous and flexible, they enjoy talking about their work and sharing their discoveries with other people. INTJs could inspire them to create something even more magnificent. This combination of the logical and technical thinking of an ISTP and the scheduled and abstract approach of an INTJ could create beautiful and inspirational projects.
At Work
ISTPs are very "hands-on"; they like to experiment and tinker away at things. They don't work well in regimented environments, so feeding an ISTP a structured mode of working would be borderline offensive to them. They are doers, so focusing on abstract ideas and developing plans isn't exactly for them. Nonetheless, an excellent troubleshooter, the ISTP is very well respected by the strategic INTJ, who'd love to have this independent and determined personality type on his team.
INTJ and ISFP
ISFP personality type falls under the "red zone" on the compatibility chart. This means these two personality types don't have much in common and their widely contrasting views on life can cause friction between them.
Relationship
ISFPs have Introverted Feeling as their dominant function, making them extremely sensitive (perhaps the most of all 16 personality types). What's more interesting is that they are prone to get hurt if misunderstood, and perhaps as a defense mechanism, they don't always communicate what they truly feel. They can be very unclear about their emotions, and let's face it – INTJs aren't mind-readers (although sometimes it seems like they are), this can be a huge drawback in their relationship. Not to mention arguments and confrontations are a huge no-no in the ISFP world. They feel personally threatened and do not take criticism well. This makes it even more difficult for INTJs to attempt to solve their issues.
Friendship
It's easy for ISFPs to get along with most of the personality types, but they sometimes feel uncommunicative around people they don't know very well. They prefer to spend time with people who share their interests, whether it's films, TV, sports or just pondering about where aliens came from. Usually, this particular personality type can't stand other types who have a strong Judging (J) preference. Unfortunately for INTJs, more often than not they fall under that category. ISFPs just don't handle being harshly criticized and they find it extremely problematic when someone does that. A friendship between these two types would require a lot of effort.
At Work
Generally, ISFPs are kind-hearted and generous work buddies. They strive to get along with everyone. They are driven to help people and usually look for a job that aligns with their views. ISFPs are extremely self-sufficient and individualistic at their workplace. They don't want to lead or follow, so if someone tries to boss them around, they would be quick to leave that environment. INTJs aren't known to be controlling or bossy in a bad sense of the word, but they do have expectations about how a job should be done, and probably wouldn't have the patience to deal with someone who doesn't see eye to eye with them.
INTJ and ENTJ
The ENTJ type falls under the "blue" zone on the chart, indicating that these two types have very similar worldviews, interests, and thoughts about the world.
Relationship
ENTJ and INTJ have a lot in common – ambition, intelligence, and purposefulness. They have great plans for the future. INTJs may be "The Strategists", but ENTJs are nicknamed "The Chief" for a reason – they strive for perfection, they simply have to be the best. It's difficult to bet on who wins a debate between these two types. They both have so much to offer, now imagine these two in a relationship! ENTJs are direct, honest, and unafraid to criticize. This is all much appreciated by the pragmatic lifestyle of an INTJ. They value truth over tact and would much rather have a partner who is frank with them, than someone who's constantly stepping on eggshells around them. They both desire a congenial and devoted relationship with their partners.
Friendship
INTJs can form very special friendships if they think their friends are worthy and ENTJs surely fall under that category – they have tremendous personal power and energy. They are bright and energetic individuals. They enjoy intellectually stimiulating conversations with their friends, so having an INTJ buddy would work in both their favor. ENTJs rarely have the patience for people that are too eccentric and different from them. Sometimes that could be a shame as they tend to miss out on a bouquet of personalities they meet. Luckily for them, they won't have that sort of issue with INTJs – after all, they have everything in common with them.
At Work
ENTJs and INTJs are both career-focused. They have extremely similar leadership styles and are born to be part of the corporate world. They like to take the lead and be in charge. This is great since not everyone wants a heavy amount of responsibilities like they do. They are tireless in their efforts to improve their workplace or any situation they deem needs fixing. The main difference between the two is that, while INTJs tend to stay away from social activities, an ENTJ is energized by having lively discussions, and have fluent verbal communication skills to express themselves eloquently. This, however, doesn't do much to distort the relationship between an INTJ and ENTJ, it just shows the potentially unalarming differences between the two at the workplace.
INTJ and ENTP
The ENTP, highlighted under the "green" zone on the compatibility chart, indicates these two types to have quite a lot of similarities, and enough differences between them to produce a healthy relationship involving growth for both parties.
Relationship
INTJ and ENTP make one of the most favorable couples. ENTP's dominant function – Extroverted Intuition is one of the prime reasons for their relationship compatibility. The INTJs' nature is balanced by their extroverted nature, eliminating the annoying small talk and chit-chat. The INTJs also enjoy the ENTP's ability to debate on literally any subject. They find that inspirational and they often generate more ideas through their mutual collaboration. ENTPs also love feeling appreciated for their excellent abilities to craft alternative solutions.
Friendship
INTJ and ENTP can create a magnificent friendship. ENTPs are charming, enthusiastic, and popular, it's easy for them to make friends, even with the more distanced personality types. ENTPs are an interesting type, often considered the devil's advocate. They can mold their personality depending on the company they share. In certain situations, they can seem impersonal, while at other moments they can be very empathetic. They can also seem introspective while being very extroverted. This is mainly because an ENTP enjoys an argument, and winning one, and viewing all possible perspectives on a matter is essential to winning a debate. This can be both positive and negative for the INTJ-ENTP friendship because INTJs don't just enjoy being "right". They are right, almost always, and that can kill an ENTPs enthusiasm. These two need to look out for the potential heat created during disagreements, in order to maintain the much-preferred peace.
At Work
At work, INTJ and ENTP are generators of numerous ideas. They love theorizing, brainstorming, and creating new plans of action, and neither would stay away from challenging the other. They both have very logical approaches to the problem at hand, a personality trait INTJs highly respect. ENTPs are also driven to self-improvement and getting their priorities straight, and the help of an ENTP would mean a great deal to them in the long run. Overall, it wouldn't be a mistake to put these two in a team, as they have the potential to become a truly dynamic duo.
INTJ and INTJ
INTJ falls under the "blue" zone on the chart, indicating that through their mutual understanding of the world and their similar interests, a harmonious relationship could occur between the two.
Relationship
INTJ dating an INTJ has both benefits and drawbacks. An INTJ involved with another INTJ in a romantic relationship could seem a little problematic during the early days of their romantic endeavors, mainly because they'd struggle to express their emotions. But after some time, it could become easier as they would begin to trust each other. In a way, no one gets an INTJ better than another INTJ. They'd know each other's boundaries very well and maintain the balance between being independent and spending time together. This could be a truly flourishing relationship.
Friendship
As friends, two INTJs would make an intriguing friendship. INTJs aren't known for being social butterflies, so the handful of friends that have are usually extremely special. It may not look like it on the surface, but INTJs take their friendships and commitments very seriously. Once they've found someone they click with, they're capable of creating powerful bonds. The same goes in the instance of an INTJ-INTJ friendship. One potential drawback could be their sense of rivalry, as these two types are used to being right all the time, so they should avoid becoming overly competitive with one another.
At Work
INTJs can be great leaders, as well as followers if they have the right person to trust. These types have innovative ideas, and working on them together can truly bring them to the maximum of their abilities. They would be extremely happy coworking on the same goals, as they would feel understood about their desperate desire to be the best. INTJ with another INTJ would make an envious team at the workplace, truly capable of manifesting their dreams.
INTJ and INTP
The INTP personality type falls under the "red" zone, indicating that this is perhaps a tough match for the two and would require a lot of work on both sides to succeed on the quest for long-term harmony.
Relationship
INTPs are generally laid-back in relationships. They are straightforward and genuine lovers who are happy to be in a committed relationship, especially if they've found someone they are truly comfortable with. So far so good – except for one drawback, INTPs have difficulty expressing their emotions, as well as reading those of others. In other words, they could feel true love and affection towards someone, but struggle to express or communicate it. In a romantic relationship, this can be an extreme disadvantage for both partners, especially with a tough communicator like the INTJ.
Friendship
INTPs and INTJs could make great friends, as they have the same desire to discuss abstract theories, generate new ideas and concepts, and talk about all things strange and wonderful in the world. However, having such similar viewpoints isn't always the best thing, especially when you run out of things to talk about. It could often happen that two types could have such similar thoughts they might not have anything to contribute or inspire each other with. There's a high chance these two types might get bored of their constant desire to philosophize on the same subjects.
At Work
INTPs enjoy knowledge and competence. They value people who have determination, dedication, and a pragmatic problem-solving approach. They trust their own judgment, over the opinion of others. They don't like hierarchies and are creative and insightful. They prefer to work solo, independently from everyone else. Sound familiar? This almost sounds like it's written for an INTJ. The fact is that these two types are extremely similar at work, and chances are they might clash. After all, having two geniuses at work isn't all that great, right?
INTJ and ENFJ
ENFJ falls under the "blue" zone on the chart, indicating that the two have very similar worldviews, interests, and thoughts.
Relationship
On the face of it, these two types can be very different. To begin with, they have completely opposite dominant functions – ENFJs have Extroverted Feeling, while INTJs have Introverted Intuition. However, that can be a good thing, as ENFJs always know how to break the ice, especially with an introverted type. In a relationship, ENFJs would be the heart, while INTJs – the head. If they balance each other out, they can coexist beautifully. ENFJs are in touch with their emotional side and they can teach INTJs a lot about emotional maturity and how to properly express their feelings, as opposed to suppressing them.
Friendship
Being part of the NT Analyzer temperament, INTJs look at the world from a logical perspective. They don't always make a great first impression because they don't particularly heed to how they are viewed by others. In a friendship between the hyper-emotional ENFJ, who lives for others, and the rational INTJ, ENFJs could learn a lot about keeping it cool. They would have a lot to contribute to each other's insecurities. ENFJs could learn to be less involved with the happiness of others and focus on their independence. While INTJs could learn to tap into their caring and emotional side.
At Work
If things don't go according to plan at the workplace, INTJs are likely to show their darkest qualities. INTJs simply don't have the patience for inefficiency or confusion. They expect a lot from people, especially if they are the managers of a team. Their constant quest to improve their circumstances can be taxing on many of their relationships. INTJs should be grateful if they ever get a chance to work with ENFJs. This type doesn't tend to hold back parts of themselves and is always willing to defend those in need of protection. ENFJs can teach INTJs to respond to conflict through the desired emotions, rather than through logic and reason.
INTJ and ENFP
ENFP falls under the "green" zone on the chart, indicating that these personality types have similar worldviews and potential for mutual growth in a relationship.
Relationship
These two extremely different personality types can make a great couple. They have a shared interest in exploring theoretical ideas and have a similar outlook on life. INTJ and ENFP can get attached pretty quickly because they have similar views on independence and are equally self-sufficient. They are also dedicated to self-improvement and can push each other to become the best versions of themselves. Opposites attract, so the key in this relationship would be to understand that you shouldn't change your partner, but rather accept them for who they are. After all, it's their opposing cognitive functions that got them hooked on each other after all!
Friendship
Even as friends, these two personality types are famously compatible. ENFPs can constantly generate new and intriguing ideas, while their logical INTJ friend could help this somewhat chaotic type find their focus. Sometimes, an ENFP needs to be brought back to earth and INTJs aren't afraid to speak up and do the dirty work! INTJs also welcome fresh perspectives on whatever it is they have been working on, and ENFPs are perfectly fit for that, also they're always willing to give a helping hand. What more can you ask for!
At Work
As colleagues, INTJ and ENFP can make an unstoppable team! ENFPs are visionaries who can constantly generate new ideas and alternatives, especially under pressure. On the other hand, INTJs can help them channel all of this energy in a structured and scheduled way. It's no secret that ENFPs can get easily distracted, so with the correct approach from an INTJ, ENFPs can work on these weaknesses and come out an even better person.
INTJ and INFJ
The INFJ personality type falls under the "blue" zone on the compatibility chart, indicating that these two types have parallel views on how the world works and share similar interests. Based on this, they have the required potential for a harmonious relationship.
Relationship
In a romantic relationship between an INTJ and INFJ, you'll often find that INFJs would be warm, caring, and affectionate. They enjoy giving and receiving love, but sometimes this can be a little too much for an INTJ. In other words, INFJs are perfectionists and want the perfect relationship. While INTJs are also perfectionists they, however, don't need that amount of pressure in their personal lives and might be put off by the INFJs excessive need for appreciation. This is not to say there's something wrong with the INFJ's way of thinking, but rather that they simply express their needs differently. Once they get accustomed to the varying ways through which the other expresses their feelings, they can maintain a harmonious relationship with ease.
Friendship
INFJs seek authenticity and depth in their friendships – much like the INTJs. It makes a lot more sense for these two to be friends rather than in a romantic relationship. INFJs rely on their Intuition preference when making friends, which is perfect for the extremely intuitive INTJ. Even though introverted at first, INFJs usually become quite popular among their friends – they are very caring and loyal and are also excellent listeners. Together, these two can form a fantastic friendship.
At Work
INFJs are artistically inclined, highly principled, and idealistic. They don't spend too much time on the details of a task. Typically, they wouldn't be part of a 9-5 job. So far, they have a lot of similarities with INTJs, however, INFJs are of the NFP Temperance, which means they have an emotional core, towards which everything gravitates. Even at work, these people are highly in touch with their own emotions and those of others, and their job is usually centered around providing emotional support for other people. Even though INFJs and INTJs might not necessarily clash at work, chances are they would rarely cross paths to even be given that opportunity.
INTJ and INFP
INFP falls under the "yellow" category on the chart, indicating that these types share similar worldviews, but their differences may push them off balance. Some work will be required to maintain a peaceful relationship.
Relationship
At first glance, INTJ and INFP seem like they should be getting along nicely. This is somewhat true, as these types share some similar preferences. On the other hand, they have zero similarities in terms of their cognitive functions (INTJs have a dominant Introverted Intuition, while INFPs – Introverted Feeling). INFPs may come across as overly emotional to an INTJ. In a relationship between a logical introvert and an emotional introvert, some misunderstandings are bound to arise. It might be difficult for these two to balance their personalities.
Friendship
In terms of friendship, these two have a better chance of creating a positive relationship. INFPs are warm and playful, and they can bring out the fun side in the otherwise pragmatic INTJ. Sometimes, all an INTJ needs is to be distracted by something silly and pleasant, like going to a movie or having a picnic. On the other hand, INTJs are great listeners, who have the capacity to give INFPs proper advice in a sticky situation. Easy-going, loyal, and devoted, INFPs can show INTJs that life doesn't always have to be serious, and a little downtime wouldn't hurt.
At Work
When it comes to working together, these two types might struggle the most to maintain their balance. For one thing, INTJs can be overly critical and have high standards of performance, both for themselves and their colleagues. INFPs have a more scattered approach to getting a task done and aren't necessarily sequential in their task completion. Another drawback would be the INFP's extreme dislike for criticism. If we know something about the INTJs by now, it's that they don't hold back when expressing their opinions. It would be beneficial for these types to try and learn from one another, for INTJs – how to properly voice criticism and for INFPs, how to accept it; for INFPs how to be more structured in the workplace and for INTJs how to let go of control.