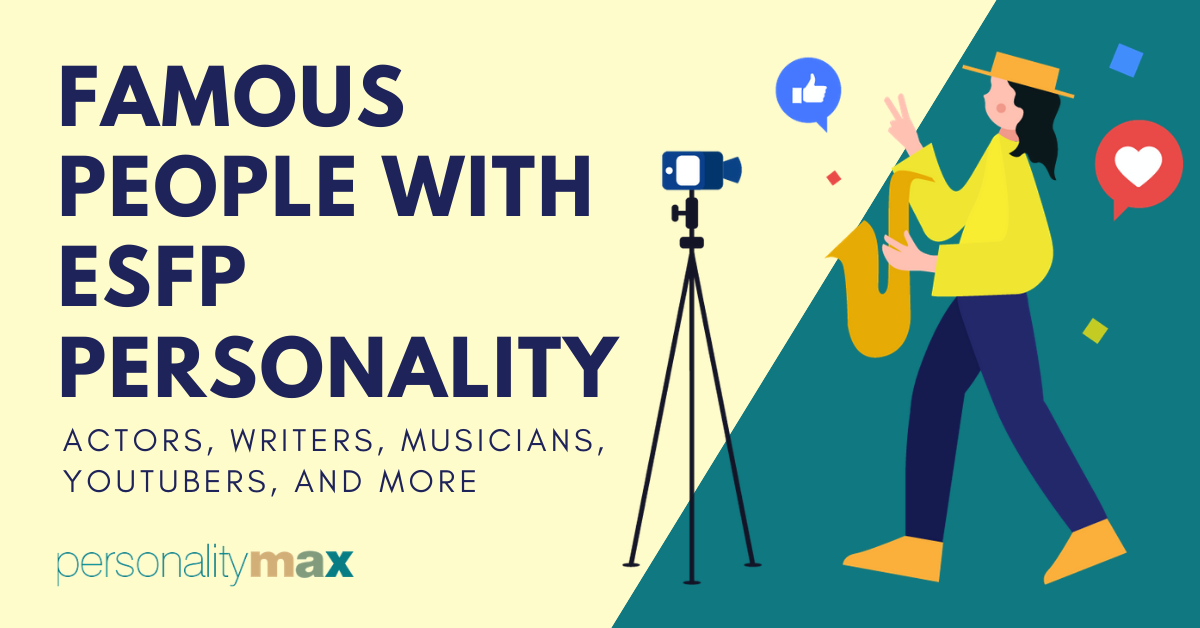 "Social butterfly" "Life of the party" "Vivacious entertainer"
These are some of the phrases used to describe people with the ESFP personality type. So it's no wonder that a lot of the most memorable and colorful famous people are believed to be in this category and known as The Entertainer.
ESFPs can be found throughout show business and the performing arts, but they certainly are not all the same. For example, it may never occur to you that Bill Clinton and Niki Minaj have many things in common, but both of them are ESFP personalities.
This proves that while it can provide significant insight into a person's strengths or weaknesses, a specific personality type test cannot entirely determine someone's character and morals.
Therefore, you should use your personality type as guidance when making a significant career or relationship decision, but try not to think of it as something written in stone that defines you as a good or a bad person.
Now let's take a closer look at some of the people and characters believed to be ESFP and hopefully learn something about ourselves along the way.
ESFP Celebrities
While statistics show that the ESFP personality type makes up 11% of the general population, we are going to introduce you to an array of wildly famous and successful ESFP celebrities from different walks of life. As we have already stated, the ESFP type is often referred to as an "Entertainer" or a "Performer." However, you will find here a number of influential world leaders, successful business people, and entrepreneurs that fall into the ESFP type.
As ESFP personalities enjoy being the center of attention, it is not surprising that two icons of American pop culture, Marilyn Monroe and Elvis Presley, were ESFPs. Unfortunately, being highly sensitive as most ESFP people are, they could not handle the burden of fame and over-exposure. This led them to substance abuse and eventually to tragic ends.
On the other hand, some other people with the ESFP personality, like notorious dictators Mussolini or Idi Amin, prove what a wide range of different characters may fall into a specific personality type. This staggering discrepancy in characters is a great reminder not to take these personality type tests as something that can entirely determine someone's life path. Personality test types may help you discover your potential. But, it is entirely up to you to decide what means you will use to fulfill these potentials and to what purpose.
All the extroverted celebrities mentioned here have ESFP personal traits that can help you answer the "How to spot the ESFP?" question. Furthermore, this comprehensive list of ESFP famous people will provide you with valuable insight and a deeper understanding of this personality type.
ESFP Actors and Film Makers
Since they are completely tuned in to their senses, it is perfectly natural for ESFP personalities to be inclined toward careers where they can showcase their sensuous nature and creativity. Therefore, we can find numerous ESFP personalities among famous actors, actresses, and filmmakers. Extrovert celebrities enjoy being on the scene, entertaining others, or spending time in an aesthetically pleasing working environment that allows them to move around freely. Here are some of the most remarkable ESFP movie stars:
Marilyn Monroe
One of the most iconic Hollywood divas had numerous features common to the ESFP personality type. Marilyn's personality is proof that you will not find other personality types in this spectrum as in sync with their senses as ESFPs are. She tended to notice and take pleasure in everything around her whether it is fashion, food, nature, or people.
When it comes to her career, she insisted on connecting with her character to be able to play her role. As a person who made decisions based on feelings, she used to spend hours processing how she felt about the role, driving the directors crazy. She hated being bored, so Marilyn always sought new thrills and adventures, often motivating others to join her.
She had a hard time accepting criticism, and wondered why someone was "mean to her." She dealt with these issues either by retreating into her shell or lashing out at others. As an ESFP, Marilyn acted upon her feelings rather than trying to control them.
Even though she enjoyed being the center of attention, Monroe struggled with self-doubt even during her glory days. Therefore, she always sought reassurance and praise from her fans and close associates.
She deeply cared about other people's feelings, but it is this over-sensitivity that led her to severe depression, which she could not fight against in the end.
Elizabeth Taylor
Elizabeth Taylor, also an ESFP, is another Hollywood diva with a flamboyant lifestyle and magnetic personality. Elizabeth spent her whole life under the limelight because she started her fascinating acting career as a child. However, her acting talent wasn't the only thing that got her in the center of attention. She was also known for her numerous marriages, indestructible confidence, a fierce ESFP humor, and an outrageously luxurious lifestyle. All of this depicts an ESFP character, ready to make decisions in the spur of the moment, following their feelings.
Elizabeth will also be remembered as a great philanthropist who understood the struggles of the discriminated and underprivileged. According to her:
"It's all about hope, kindness, and connection with one another."
This statement sums up everything the ESFP personality believes in. Even though she enjoyed her enormous wealth, Taylor also believed that money should be used to make the world better.
As a true ESFP, she had the power to inspire others to follow her initiatives, and draw attention to important issues that needed to be tackled. For this reason, her foundation for battling AIDS had such a significant impact even in times when this disease was a taboo.
Here is an extensive list of other famous ESFP actors and filmmakers:
Andy Samberg, American actor (Saturday Night Live, Popstar: Never Stop Never Stopping, That's My Boy)
Arsenio Hall, American actor and TV host ( Arsenio Hall Show, Coming to America)
Bob Hope, American actor and comedian ( The Road to Hong Kong, Spies Like Us, the Muppet Movie)
Brittany Murphy, American actress (Clueless, 8 Mile, Just Married)
Cameron Diaz, American actress ( The Mask, Vanilla Sky, Charlie's Angels, There's Something about Mary)
Chloe Grace Moretz, American actress (True Detective, Inside Out, Seven )
Denzel Washington, American actor ( Fences, Training Day, Philadelphia)
Judy Garland, American actress (The Wizard of Oz, Meet Me in St. Louis, A Star is Born)
Lindsay Lohan, American actress (The Parent Trap, Mean Girls)
Quentin Tarantino, American director (Pulp Fiction, Four Rooms, Reservoir Dogs, The Hateful Eight, Once upon a Time in Hollywood)
Will Smith – American actor (The Fresh Prince of Bel-Air, Men in Black, I am Legend, Wild Wild West)
Willard Scot, American comedian (Bozo the Clown, Valery)
Oscar Isaac, American actor (Star Wars, Adams Family)
Mads Mikkelsen, Danish actor (Hannibal, Doctor Strange)
Goldie Hawn, American actress ( The First Wives Club, Everybody Says I Love You, Death Becomes Her)
Betty White, American actress ( Golden Girls, The Proposal) 
Edie Sedgwick, American actress ( Vinyl, Ciao Manhattan, Lupe) 
Jerry Lewis, American comedian ( The Nutty Professor, The King of Comedy, Arizona Dream)
Lana Turner, American actress (Imitation of Life, Peyton Place, The Bad and the Beautiful)
Tippi Hedren, American actress ( The Birds, Marnie, Roar)
Delroy Lindo, American actor ( Get Shorty, The Core, Malcolm X, Ransom)
Jeremy Irvine, English actor ( War Horse, Mama Mia – Here We Go Again )
Aaron Paul, American actor ( Breaking Bad, El Camino, Need for Speed)
Andrew Rannells, American actor ( A Simple Favor, Sex and the City 2, Intern)
Anthony Anderson – American actor (The Departed, Transformers, Hustle & Flow)
Anthony Mackie, American actor ( The Hurt Locker)
Brendan Fraser, American actor ( The Mummy, The Mummy Returns)
Channing Tatum, American actor ( 21 Jump Street, Foxcatcher)
Corey Feldman, American actor ( Stand by Me, The Lost Boys, The Goonies)
James Franco, American actor (The Disaster Artist, 127 Hours)
Kurt Russell, American actor ( The Hateful Eight, Tango & Cash)
Laurence Fishburne, American actor ( Matrix, Mystic River, Contagion)
Jerry Stiller, American actor (Hairspray, The Heartbreak Kid, Seinfeld)
Kevin Hart, American actor (Ride Along, Central Intelligence)
Mario Lopez, American actor ( Saved by the Bell)
Martin Lawrence, American actor ( Martin, Bad Boys I, Bad Boys II)
Patrick Dempsey, American actor ( Grey's Anatomy, Enchanted)
Richard Pryor, American actor (See No Evil, Hear No Evil, Silver Streak, Superman 3)
 Sarah Bernhardt, French theatre actress
Trevor Jackson, American actor ( Superfly, Grown-ish, Burning Sands)
Alyssa Milano, American actress ( Charmed, Commando, Fear)
Anna Faris, American actress (Brokeback Mountain, House Bunny, Just Friends)
Christina Applegate, American actress ( Don't Tell Mom the Babysitter's Dead, Bad Moms, Married with Children)
Kaley Cuoco, American actress ( The Big Bang Theory, The Wedding Ringer, 8 Simple Rules)
Melissa McCarthy, American actress ( Mike and Molly, Heat, Bridesmaids)
Mimi Rogers, American actress ( Lost in Space, Big Nothing)
Phoebe Cates, American actress ( Drop Dead Fred, Gremlins 1, Gremlins 2 )
Tara Reid, American actress ( American Pie, The Big Lebowski, Urban Legend)
Teri Hatcher, American actress ( Desperate Housewives, Tomorrow Never Dies )
ESFP Musicians
We may say that stage is the natural surrounding for the ESFP personalities. They are born to entertain others and enjoy being the stars of the show. Therefore, we can find an array of ESFPs among global music superstars whose only goal is to amaze their audience, offering them energetic visually outstanding performances.
The urge to follow their feelings combined with the high aesthetic standards and the need to be the "talk of the town" may result in provocative, over-the-top stylings and performances that often hang on the verge of scandal.
For ESFP musicians, the stage is their life. They will go above and beyond to offer their fans an unforgettable experience channeling their sensual side in their performances. What you can expect from an ESFP music star are flamboyant, demanding, and provocative choreographies that fit perfectly with their upbeat, passionate music.
You will never have a dull moment around enthusiastic ESFP people, like Adam Levine and Justin Bieber, since they like to keep themselves busy and fill their time with various activities that involve others. However, known for their tendency for making decisions in the spur of the moment, they may become easily overwhelmed when presented with an array of exciting activities they have to choose from. These easy-going and fun-loving personalities live their lives to the fullest and hate missing out on great fun.
At the same time, many ESFP musicians are overly sensitive to their feelings, and to the feelings of others. This may be considered as both a strength and weakness of this personality type. An in-depth understanding of people's wishes and needs makes them lovable and genuine in the eyes of their fans. On the other hand, this enhanced sensitivity may hold them back from completely fulfilling their potential.
Adam Levine
The "Maroon 5" frontman, whose energy and enthusiasm are contagious, is a perfect example of the ESFP musician. He cares for others and wants to give his fans a once-in-a-lifetime experience. The perfect example of this is when he "crashed" several LA weddings to perform "Sugar" with his band and share the joy and excitement with the newlyweds.
Miley Cirus
Miley is also an ESFP superstar who lives for her music, constantly reinventing her artistic persona and pushing the boundaries with her provocative performances and videos. Miley possesses an indisputable musical talent that she adores sharing with other musicians. Hence, the performance with her godmother, country icon Dolly Parton, also an ESFP personality, came as no surprise. Both immensely talented with larger than life personalities, these music superstars reigned the stage, sharing their unbelievable energy with the audience.
Being an ESFP, Miley is an attention seeker. For this reason, details from her private life used to fill the pages of numerous tabloids over the years, taking a toll on her marriage. Fortunately, Miley succeeded in making the subtle balance between her artistic persona and private life, learning how to use her performer skills to stay in the public eye.
Justin Bieber
Justin is another pop star who is believed to have an ESFP personality. We may say that Justin is a typical ESFP personality bursting with energy, always seeking some interesting activity to occupy his time. As an ESFP type, he always has to be on the move. However, sometimes this immense energy and his acting upon impulse may slip into recklessness.
Besides being extremely energetic, Bieber is also ambitious, assertive, and adaptable, easily reaching out to people who share his love for adventure and excitement. However, when times get tough he seeks comfort among friends. Free-spirited and impulsive, he also cherishes the freedom to do things by his own accord, without anything that may control or restrict him.
Here are some other famous musicians who share the ESFP personality traits:
Katy Perry, American pop star (One of the Boys, The Teenage Dream, I Kissed a Girl)
James Brown, American musician and "Godfather of Soul"
Little Richard, American musician (Whole Lotta' Shakin' Going on, Rip It Up, I Don't Know What You Got)
Pink, American pop star ( Please Don't Leave Me, Family Portrait, Try, Blow Me )
Niki Minaj, American pop star ( Barbie Tingz, TROLLZ, Bang Bang )
Ringo Starr, English musician a member of the Beatles
Ray Charles, American musician (Georgia on My Mind, Hit the Road, Jack, I Got a Woman, A Song for You)
Rick James, American musician ( Superfreak, Give it to me Baby, Fire and Desire)
Robin Thicke, American musician ( The Evolution of Robin Thicke, Blurred Lines)
Elvis Presley, American musician and pop icon (Love Me Tender, Are You Lonesome Tonight, Suspicious Minds, Viva Las Vegas)
Tommy Lee, American musician, drummer
Robbie Williams, English pop star ( The Road to Mandalay, Angels, Love Supreme, Love My Life, Let Me Entertain You)
Marina Diamandis, British musician ( How to Be a Heartbreaker, Bubblegum Bitch, Teen Idle)
Harry Styles, English musician ( Fine Line, Harry Styles)
Julian Casablancas, American musician, "The Strokes" singer (You Only Live Once, Last Nite, The Adults are Talking)
Billy Ocean, British musician (Caribbean Queen, Get Outta My Dreams, Get Into My Car, Love Really Hurts without You)
Danielle De Niese, American opera singer
Macklemore, American rapper (Glorious, Marmalade, Good Old Days)
Tyler the Creator, American rapper ( See You Again, Who Dat Boy)
Beyonce, American pop star ( Lemonade, Dangerously in Love, B'day)
Paul McCartney, English musician and pop icon ( Hey Jude, Here Comes the Sun, Maybe I'm Amazed)
Notorious B.I.G., American rapper ( Ready to Die, Notorious, Born Again)
Steven Tyler, American musician, Aerosmith singer ( Cryin', Walk This Way, Dude Looks Like a Lady, Don't Wanna Miss a Thing)
Sly Stone, American musician ( Everyday People, Dance to the Music, Family Affair)
Lil' Kim, American pop star (Lady marmalade, Crush on You, Not Tonight)
Jessie J, English pop star ( Price Tag, Bang Bang, Flashlight)
Ian Gillan, American musician, Deep Purple singer (Deep Purple in Rock, Machine Head, Perfect Strangers)
Dave Gahan, English musician, Depeche Mode singer (Enjoy the Silence, Personal Jesus, Strangelove )
Music and film are not the only artistic fields you can find exceptional ESFP personalities in. They are also capable of drawing attention to themselves with their writing or art pieces. One of the greatest artists of all time, who changed the perception of art in Western world, possessed ESFP personality traits.
Michelangelo Buonarroti
The creator of David, a true Renaissance man whose talents ranged from sculpting and poetry to engineering, was a driven and ambitious ESFP personality. He learned new things through experience, on the go, which is the preference of ESFP type.
Also, he didn't have a clear cut design of his work in his mind before he would start carving. The art piece would emerge before his eyes spontaneously as the artist immersed himself in his work. He tended to change his mind frequently during the creative process, which is why he left numerous pieces unfinished.
Michelangelo had a prominent practical side, so he could tackle any situation or a problem with ease. He didn't shy away from any work that could bring him money. His hands of a magnificent artist would easily become hands of a skilful craftsman, when needed. This is why William E. Wallace described him as a person " who shuttled constantly between the sublime and mundane," while Mark Twain believed that God made Italy from Michelangelo's designs.
Some other famous ESFP artists and authors are:
Paulo Coelho, Brazilian author
Gioacchino Rossini, Italian composer
Deepak Chopra, American author and alternative medicine advocate
Dr. Wayne Dyer, American author and public speaker
ESFP Leaders
Even though ESFP personalities are often referred to as Performers and Entertainers, show business is not the only walk of life where they can showcase all their talents and fulfill their potential. The term Performer or Entertainer derives from Jung's classification of personality types. Some people have found relating this term to world leaders' and significant politicians' personalities may be offensive. However, an eminent psychotherapist Ira Progroff opposed this misconception, stating "When Jung describes a type, he is not calling him a name." In other words, Jung's Performer type carries a much deeper meaning than "someone who performs."
Jung devised this approach to figure out how someone's perceptions and judgments are structured, depending on their functions, and not only to describe someone's behavior. Thus, you will find numerous successful ESFP entrepreneurs and powerful politicians with ESFP or Performer characteristics.
When you take into consideration the main characteristics of this personality type, it is easy to see why EFSP people are persuasive and efficient leaders. ESFP leaders are encouraging, enthusiastic, and great at making swift connections with others. At the same time, they are realistic and practical at finding solutions to problems, capable of encouraging others to tackle any crisis or issue immediately. ESFP leaders are persuasive and can motivate others to follow their lead due to their perceptiveness and understanding of others' wishes and needs.
Ronald Reagan
Reagan, also an actor, was the US president from 1981-1989 and a typical ESFP leader. Even though this wasn't the brightest period in American history, Ronald Reagan managed to spread optimism wherever he went. As he claimed he wanted to be remembered as a president that appealed to people's best hopes and not their worst fears; to their confidence rather than doubts. According to former president Bill Clinton, "Reagan personified indomitable optimism and fought for freedom for people everywhere." Also, Reagan tended to "go with the flow" and avoid conflicts, which is also a typical ESFP trait.
Benito Mussolini
One leader, who is believed to be an ESFP, defies everything we have already presented as the predominant ESFP traits. This Italian dictator, who led his country during WWII, was a far cry from a fun-loving, understanding, and observant person who shies away from conflicts. Quite the contrary, he believed that "Pacifism is born of cowardice." According to him, war was the only state where human energy could be displayed at its fullest. And this overwhelming energy he possessed and displayed in his actions may have qualified him as an ESFP. In addition, he was known for his fiery, persuasive speeches and the power to make people believe everything he said.
This amazing discrepancy in characters that share the ESFP personality type shows how a wide range of people from different walks of life may have some features of a specific personality type.
Here are some other leaders and politicians believed to be ESFPs:
Peter the Great, tsar of Russia
Lord Nelson, UK naval officer
Desmond Tutu, anti-apartheid activist
Idi Amin, dictator of Uganda
Hakeem Jeffries, American politician
John Edwards, American politician
Boris Yeltsin, President of Russia
Carlos Bolsonaro, Brazilian politician
Gerhard Schröder, German politician
Jacek Kurski, Polish politician
Jean Chretien, Prime Minister of Canada
Kim Young-sam, President of North Korea
King Abdullah, King of Jordan
Luigi Di Maio, Italian politician
ESFP Entrepreneurs
It is not surprising that the business world is filled with people who have ESFP characteristics. They are practical and focused on facts and details when at work. In addition, they are enthusiastic, ambitious, assertive, and confident. In a nutshell, ESFP business leaders have all predispositions to succeed despite the resentment they have for fixed rules and schedules. They strive to help their employees fulfill their potentials by providing appropriate practical assistance needed for their growth. At the same time, being aware of the importance of feelings, these business magnates strive to create working environments that will make their employees happy and satisfied.
Richard Branson
Branson is an ESFP businessman with a prominent practical side whose perception of the world is grounded in reality. He strongly advocates learning through experience. He also believes that life should be lived to the fullest. In his opinion, IQ tests are highly overrated because they do not display someone's ability to solve practical issues. Even though he has built the highly structured "Virgin" empire, he admits that he always had a rebellious side and believed that rules existed to be broken.
Other ESFP Entrepreneurs are:
Larry Ellison, founder of "Oracle"
Howard Shultz, CEO of "Starbucks"
Mark Cuban, businessman and investor
Dana White, president of the UFC
Hugh Hefner, founder of "Playboy"
ESFP Athletes
Being highly energetic and enthusiastic, ESFP people enjoy getting engaged and excelling in different sports. Their drive to be the focus of attention can turn them into indisputable leaders of teams and unbeatable opponents on various courts. It is not surprising then that numerous memorable athletes are ESFP personalities. Here is a short list of successful ESFP athletes:
Earvin "Magic" Johnson
"Magic" Johnson, one of the legendary Lakers players, is believed to be an ESFP for all the right reasons.
He is aware of his dominant personality and wants to be the center of attention on and off the basketball court. At the same time, he plays at his own accord, demanding freedom to think and act independently in any situation. Johnson thinks and acts like a born leader who protects and provides for people he cares about, demanding their unwavering respect in return.
However, when he feels disrespected or undermined he becomes easily irritated and bossy. He also tends to be extremely critical of his own shortcomings, as well as the shortcomings of others.
Some other ESFP athletes are:
Adrian Peterson, American football player
Dennis Rodman, NBA basketball player
Serena Williams, American tennis player
Mary Lou Retton, American gymnast
Kyle Petty, American NASCAR driver
Ken Griffey Jr., American football player
Metta World Peace, American football player
Walter Payton, American football player
If you want to find out who else is on the list of the ESFP celebrities, keep on reading:
Adym S. Evans (Verbalase), American beatboxer, impressionist, singer
Alana Thompson, "Honey Boo Boo", American TV personality ( Toddlers and Tiaras. Here Comes Honey Boo Boo, Dancing with the Stars Juniors)
Anastasia "Stassie" Karanikolaou, American celebrity
Anna Nicole Smith, Playboy girl and celebrity
Blac Chyna, American model and socialite
Denise Rocha, Brazilian model, lawyer, TV personality
Elle Macpherson, Australian top model
Jamie Oliver, English celebrity chef ( The Naked Chef, Oliver's Twist, Jamie's Ministry of Food, Jamie's Great Italian Escape )
June Shannon, "Mama June", American TV personality ( Toddlers and Tiaras. Here Comes Honey Boo Boo, Mama June: From Not to Hot)
Katie Price (Jordan), British TV personality ( Big Brother VIP, Katie and Peter, I'm a Celebrity, Get Me out of Here, My Crazy Life)
Khloé Kardashian, American celebrity (Keeping Up with Kardashians, Cocktails with Khloe)
ESFP Characters
As you can imagine, books, movies, anime cartoons, and TV shows are crammed with ESFP fictional characters. Every piece of fiction needs an enthusiastic, out-going, fun-loving character to lift the atmosphere from time to time. These characters want to make the best of life and know how to do it. At the same time, they care immensely for their friends and loved ones and want everybody to have a great time. On the other hand, fictional ESFP villains tend to be impulsive, reckless and can be easily enraged by the slightest criticism. Here are some of the popular fictional characters that faithfully depict an ESFP personality.
Penny – The Big Bang Theory
Even though Penny is not as highly educated as the rest of her friends, she is the heart and soul of this group. Her bubbly personality, easy-going way of life, and confidence are things that warm even Sheldon's icy intellectual heart. She does not have a clear plan for the future but she doesn't seem to mind. Penny goes with the flow, taking life not too seriously. Something she does take seriously, though, are relationships with people she cares for. When she is angry she turns into a Hulk, according to Lennard, so you better stay out of her way. The good thing is that she cannot stay angry for a long time, and she quickly turns back into the quirky, lovable girl next door.
Daisy Buchannan – The Great Gatsby
Daisy is the ultimate performer. She lives to be in the center of attention, and wants to leave the impression of a flawless lady with a perfect reputation. All of this is a part of her performance which makes her artificial and insincere. Gatsby, who knows her best, sees through all the pretense, and is disappointed with this change in her character. However, Daisy's perfect artificial world filled with beautiful objects and a "pleasant and cheerful snobbery" is just a cover for the sadness and emptiness she constantly feels.
Homer Simpson – The Simpsons
If you wanted to gather all the weaknesses that encompass the ESFP type in a fictional character, you would get Homer Simpson. He avoids any kind of conflict, especially with Marge, and even when he knows he is in trouble he refuses to deal with the situation. He is equally successful in avoiding responsibilities and hates any kind of planning because he is completely unfocused and disorganized. On the other hand, Homer is over sensitive and gets insulted easily, as most ESFPs do. When he feels hurt and undermined, he overreacts and gets easily irritated. In these situations, he tends to show his mean side as a specific defensive mechanism.
Avon Barksdale – The Wire
Avon Barksdale is the perfect example of an ESFP villain. The fierce and ruthless drug lord is known for making impulsive decisions he does not reconsider. His presence is felt the moment he enters the room, and he instantaneously draws attention to himself. He reacts violently when enraged, not caring about consequences. Even though Avon is in charge of a highly structured criminal organization, it is not always easy for him to follow a plan. When making decisions he follows feelings rather than logic, and this will be the reason for a serious conflict with Stringer which will lead to betrayal. His personality is larger than life and he enjoys expensive things and outrageous parties as well as participating in various sports like basketball and boxing.
Here are some other ESFP fictional characters:
Will, "About a Boy"
Finn the Human, "Adventure Time"
Jasmine, "Aladin"
Stepan Arkadyich Oblonski, "Anna Karenina"
Lindsay Bluth Funke, "Arrested Development"
Korra, "Avatar : Legend of Korra"
Gaston, "Beauty and the Beast"
Captain Jack Harkness, "Dr. Who"
Peter Griffin, "Family Guy"
Cisco Ramon, "The Flash"
Joey, "Friends"
Anna, "Frozen"
Cersei Lannister, "Game of Thrones"
Fredo Corleone, "The Godfather"
Blanche, "The Golden Girls"
Princess Margaret "The Crown"
Michael Kelso "That 70's Show"
Kevin "This is US"
Jack Dawson "Titanic"
Buzz Lightyear "Toy Story Series"
Finnick Odair "The Hunger Games"
Fozzie Bear "Muppet Show"
George Weasley "Harry Potter Series"
Lydia Bennet "Pride and Prejudice"
Peregrin "Pippin" Took "The Lord of the Rings"
Simba "Lion King"