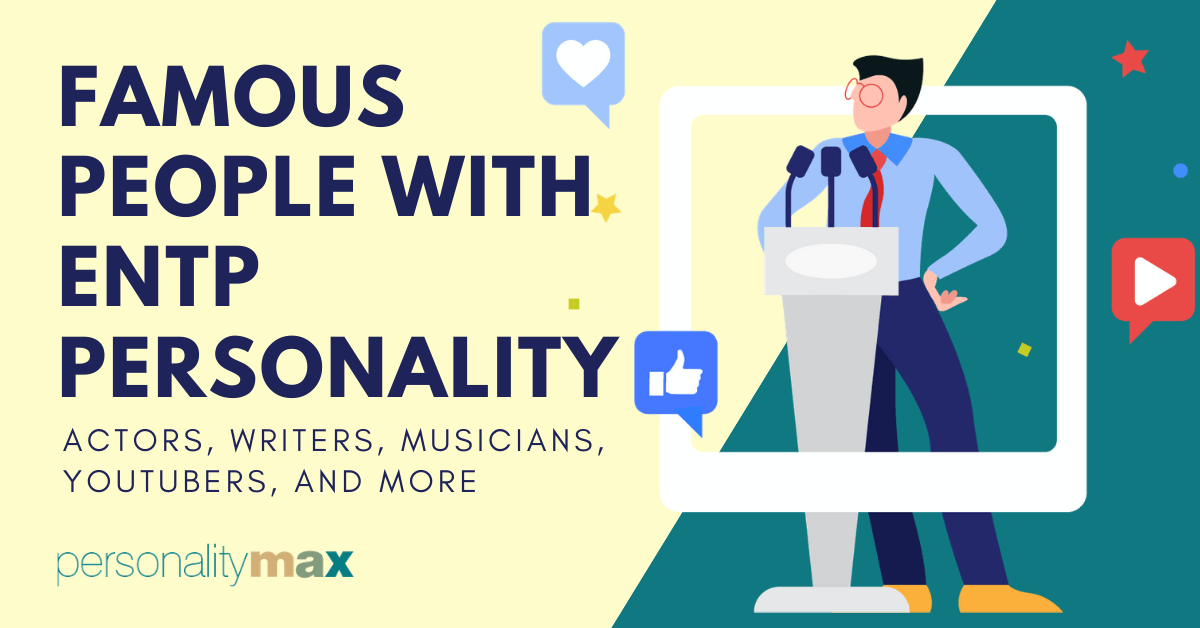 A quick wit, a never-ending source of contagious energy, a do-it-all attitude, and the ability to somehow take control in every situation…sound familiar? Then maybe you're thinking about someone who has the rare but oh-so-great ENTP personality type.
ENTPs are naturally entrepreneurial, they want to know how things work and they're the happiest when they make a new discovery. To best imagine this personality type, simply think about a little kid whose main activity is to poke you on the knee while asking 'Why?' at least 20 times a day.
Needless to say, some of the most loved celebrities and fictional characters are, in fact, ENTPs. You'll recognize them easily – they're quirky, playful, influential, and even eccentric at times. We love them because of their curiosity and creativity, and the fact that they could make us laugh by just being themselves. This all comes as no surprise, given the fact that the ENTP personality type's Preferences are Extroversion (E), Intuition (N), Thinking (T), and Perceiving (P).
ENTP is actually one of the rarest personality types, making up just 4.5% of the general world population. Another completely legitimate reason for everyone to fall in love with these smooth talkers.
People who share the ENTP personality type are the heart of the party, no matter whether it's a loud celebration or just a simple debate. With their exceptional charisma and constant need to understand what makes others tick, they're brilliant conversationalists, fascinating idea generators, and simply big, big charmers. Think of the ENTP person as an information sponge that's full of endless curiosity and knowledge. It's up to you whether you'd like to listen.
Now, let's get you familiar with some incredible famous ENTP people and ENTP characters. As you're going through the list, you'll get a better idea of why that personality type is so special. Some of them are charming, others are witty and even hilarious, and there's also a solid percentage that consists of smart, creative, and innovative individuals. Whether we like them or not, one thing is sure – they're all memorable.
Enough with the introduction, let's get to the real deal.
ENTP Celebrities
Let's play a little game. Take a pen and a piece of paper and write down three names of famous people who you think to share the ENTP personality type, based on what you know so far. Remember – the ENTP person is funny, outgoing, knowledgeable, and always open for a debate, or simply a good conversation. They're charming, charismatic, and one of the most creative types out there (what's not to like about them, right?).
Did you manage to think of three ENTP celebrities? Keep reading to find out if you've guessed correctly.
To give you a better idea about the plethora of ENTP famous people, we'll focus on a few different celebrity categories, such as Actors and Filmmakers, Musicians, Writers, Comedians, and Leaders. In order to show you the complete diversity of this incredible personality, we've also thrown in some other ENTP celebrities that don't fit in any of these categories but are definitely worth the mention.
In our list, you'll see the names of Karl Lagerfeld, Amy Poehler, Neil Patrick Harris, Sacha Baron Cohen, and even Socrates – all really different and yet quite similar. Let's explore it together.
ENTP Actors and Filmmakers
Being an actor or filmmaker requires the ability to think quickly, react accordingly and, most of all, be exceptionally creative. For people with an ENTP personality, using different forms of expression and being able to articulate their emotions is incredibly important. That's why this particular type thrives in the acting industry.
As a bonus, the ENTP person loves a good challenge and even some risk, which makes them perfect for intense action scenes and complicated movie scenarios.
But, most of all, the ENTP actors are simply hilarious. With their neverending wit and their ability to handle everything with a big smile and a great deal of optimism, there's no way that you would end up bored around them… even if you're just watching them on your screen.
A perfect example of an ENTP actor is Matthew Perry. His charm and charisma simply ooze from the screen and his sarcastic wit could make us laugh even when we don't feel like it. An amazing conversationalist and analytical thinker, Matthew Perry is one of those people that you could talk to for hours, discussing literally everything.
Quite adaptive to various social and artistic setups, he could easily fit into any context and event and could contribute to the conversation with an endless stream of jokes and random interesting facts. The 'Intuitive' and 'Thinking' parts of this ENTP personality pair incredibly well together and lead to a perfect balance that helps prevent a situation where someone might get offended or understand a joke incorrectly.
Here's a list of more famous ENTP actors and filmmakers:
Alfred Hitchcock, British film director, producer, and screenwriter (Psycho; The Birds) 
Amy Poehler, American actress (Parks and Recreation; Mean Girls)
Ashton Kutcher, American actor (That '70s Show; Dude, Where's My Car?)
Federico Fellini, Italian writer and director (La Dolce Vita; Nights of Cabiria)
John Candy, Canadian actor (Home Alone; Planes, Trains and Automobiles)
John Cleese, British actor (Monty Python's Flying Circus; Fawlty Towers)
Martin Scorsese, U.S. producer, director, and actor (Taxi Driver; Goodfellas)
Neil Patrick Harris, American actor (How I Met Your Mother; A Series Of Unfortunate Events)
Rowan Atkinson, British actor (Mr. Bean; Johnny English)
Sacha Baron Cohen, British actor (Borat; The 11 O'Clock Show)
Stephen Fry, British actor (V For Vendetta; Bones)
Tom Hanks, American actor and producer (Forrest Gump; Cast Away)
Elizabeth Olsen, American actress (Avengers; Sorry For Your Loss)
Claire Danes, American actress (Romeo + Juliet; The Hours)
Terry Gilliam, British film director, actor, and writer (Monty Python's Flying Circus; Brazil)
Hugh Grant, British actor (Love Actually; Notting Hill)
Bryan Cranston, American actor (Breaking Bad; Malcolm In The Middle)
Christian Slater, American actor (True Romance; Mr. Robot)
Cole Sprouse, American actor (Friends; Riverdale)
Danny DeVito, Italian-American actor (It's Always Sunny In Philadelphia; Batman Returns)
David Harbour, American actor (Stranger Things; Hellboy)
David Spade, American actor (Joe Dirt; Tommy Boy)
Dax Shepard, American actor (Parenthood; Employee Of The Month)
Haley Joel Osment, American actor (The Sixth Sense; Pay It Forward)
Hank Azaria, American actor (The Simpsons; Free Agents)
James Van Der Beek, American actor (Dawson's Creek; The Rules Of Attraction)
Jason Sudeikis, American actor (Colossal; The Last Man On Earth)
Jeff Goldblum, American actor (Jurassic Park; The Grand Budapest Hotel)
John Leguizamo, Colombian actor (Moulin Rouge!; Romeo + Juliet)
Paul Rudd, American actor (Friends; Ant-Man)
Stanley Tucci, American actor (Big Night; The Lovely Bones)
Val Kilmer, American actor (Batman Forever; The Salton Sea)
Tom Arnold, American actor (True Lies; Exit Wounds)
Vince Vaughn, American actor (The Break-Up; Wedding Crashers)
Zach Galifianakis, American actor (The Hangover; Due Date)
Lizzy Caplan, American actress (Mean Girls; Masters Of Sex)
Lulu Wilson, American actress (The Haunting Of Hill House; Sharp Objects)
Maya Rudolph, American actress (Bridesmaids; Saturday Night Live)
Ryan Reynolds, American actor (Deadpool; The Proposal)
Eugene Levy, Canadian actor, writer, and producer (Schitt's Creek; American Pie)
Alexander Skarsgård, Swedish actor (True Blood; Big Little Lies)
Louis de Funès, French actor and writer (The Wing Or The Thigh?; The Mad Adventures of Rabbi Jacob)
Peter Dinklage, American actor (Game of Thrones; The Station Agent)
ENTP Musicians
It's a whole rock n' roll world out there for ENTP musicians. Using their endless creative strength, these talented ENTPs know their skills pretty well – be it composing, playing an instrument, or singing. Being the heart of the party, the ENTP musician knows how to have a good time and how to help others enjoy their experience too.
ENTP musicians are passionate, charismatic and they definitely know how to make an impression. Embracing their little quirks and character perks, these creative types enjoy being in the spotlight and don't shy away from any attention – trust us, they know how to handle it. The energy of the ENTP personality is constantly flowing and can easily transfer to the crowd during a live show. The same applies to their music. As we mentioned earlier, the ENTP personality type is truly a rare diamond, as only 4.5% of the population identifies with it.
If we have to describe the type of music that the ENTPs create, we could say that it's unusual, quirky, experimental, and often loud. It's a complexity of different instruments and techniques that help you see how colorful and diverse the art of music is.
Among the most loved ENTP musicians is Frank Zappa – one of the truly important artists of the last century. An incredibly talented singer-songwriter, multi-instrumentalist, composer, and brilliant experimentalist, he wasn't just an idol-slash-crush to your parents. His creative impact actually influenced many other musicians, such as Jimi Hendrix, Jeff Buckley, Black Sabbath, and even The Beatles.
With his IQ said to be 172, Frank Zappa is a real musical genius. His ENTP personality type helped him create real masterpieces by using his energy, curiosity, and penchant for any new and undiscovered sound trend or technique. What makes him so special is that he was brutally honest, open, and straightforward, and was constantly fighting against censorship in the rock n' roll industry. In his musical career, he managed to explore many different genres, such as jazz, rock, and even classical music. Using his intense ENTP energy and the need to learn and explore new things, he never stopped creating music and breaking barriers between the music styles, even if they weren't compatible in theory.
Given his neverending curiosity and the desire to change the world, during his lifetime, Zappa released an impressive 62 albums. And that's not everything. Since his death in 1993, the Zappa Family Trust has released 54 more albums as of July 2020, which makes a total of 116. Now, this is what we call real ENFP energy.
Here's a list of more famous ENTP musicians:
Dave Matthews (Dave Matthews Band), American singer, songwriter, musician, actor, and record label owner
David Evans (the Edge), Irish musician and songwriter (U2)
Harry Connick Jr., American singer, pianist, composer, actor, and television host
Serj Tankian, Armenian-American musician, singer, songwriter, record producer, and political activist (System Of A Down)
Imogen Heap, British singer-songwriter
Tom Waits, American singer, songwriter, musician, composer, and actor
'Weird Al' Yankovic, American singer, songwriter, and musician
Siouxsie Sioux, British singer, songwriter, musician, and record producer (Siouxsie and the Banshees)
Kevin Barnes, American singer, multi-instrumentalist, and songwriter (Of Montreal)
Igor Stravinsky, Russian-born composer, pianist, and conductor
Azealia Banks, American rapper, singer, songwriter, and actress
Kesha, American singer, songwriter, rapper, and actress
Princess Nokia, American rapper
Aaron Gillespie, American musician and vocalist (Underoath; The Almost)
Alex Gaskarth, British singer, songwriter, guitarist, musician, and actor (All Time Low)
Ezra Koenig, American musician, rapper, and singer-songwriter (Vampire Weekend)
Josh Tillman (Father John Misty), American musician, singer-songwriter, and record producer
Ludacris, American-Gabonese rapper and actor
Mike Patton, American singer, producer, voice actor, and film composer (Faith No More)
Lady Sovereign, British rapper
Norman Cook (Fatboy Slim), British musician, DJ, and record producer
Peter Hammill, British singer-songwriter
Ian Anderson, Scottish musician, singer, and songwriter (Jethro Tull)
ENTP Writers
As writers, ENTPs absolutely love the process before the actual writing. They're abstract thinkers, constantly overflowing with ideas but often without enough time or patience to help them come to life. Passionate brainstormers and creative idea generators, they invest all their energy into coming up with concepts and themes that ignite their curiosity and show their imagination in its full bloom.
Despite focusing so thoroughly on the pre-writing stage, ENTP writers often find the writing process itself long and tiresome, as sometimes their energy simply vanishes after they've put all their effort into the first stage of their creation.
The reason for this is simply that the ENTPs are energetic, spontaneous, full of ideas and enthusiasm, and they enjoy the initial part of their working process the most – the one where their imagination comes to life. Just like a lightbulb-filled speech bubble comes out of a character's head in a comic book.
However, ENTP writers do produce phenomenal poems, stories, and novels.
An example of a contemporary ENTP writer is the American freelance journalist and novelist Chuck Palahniuk. His work consists of both fiction and non-fiction stories, including the award-winning novel Fight Club, which was later made into one of the most popular movies of all time, starring big names of the film industry, such as Brad Pitt and Edward Norton.
Chuck Palahniuk's writing style is clean, minimalistic, and concise. He started writing in his mid-30's, and his vivid imagination didn't go unnoticed. What's interesting about his creative process is that usually, the final story doesn't even come close to the original draft. He spends a big portion of his time rewriting his stories over and over again until he's happy with the outcome and can confidently show it to a publisher.
Here's a list of more famous ENTP writers:
Socrates, Greek philosopher (The Symposium; Apology)
Voltaire, French writer, historian, and philosopher (Candide; Oedipus)
Benjamin Franklin, U.S. writer, printer and publisher, and political philosopher (United States' Declaration of Independence; The Autobiography of Benjamin Franklin)
George Bernard Shaw, Irish playwright, critic, polemicist, and political activist (Man and Superman; Pygmalion)
Niccolo Machiavelli, Italian Renaissance diplomat, philosopher, and writer (Discourses on Livy; The Prince)
Francois Rabelais, French Renaissance writer and physician (Gargantua and Pantagruel) 
Diablo Cody, American writer, producer, and author (Juno; Jennifer's Body)
Dorothy L. Sayers, British crime writer (Busman's Honeymoon)
Marilyn Vos Savant, American magazine columnist and author (The Power of Logical Thinking: Easy Lessons in the Art of Reasoning…and Hard Facts about Its Absence in Our Lives)
David Hume, Scottish philosopher, writer, and historian (A Treatise of Human Nature)
Samuel Butler, British author (The Way Of All Flesh)
Mark Twain, American writer (The Adventures of Tom Sawyer)
Dr. Seuss, American children's author (Oh, the Places You'll Go!)
Andy Rooney, American radio and television writer (A Few Minutes with Andy Rooney)
Charles Dickens, British writer and social critic (A Christmas Carol)
Upton Sinclair, American writer (The Jungle)
ENTP Comedians
It would be a shame if we didn't dedicate a special place for all comedians who share the ENTP personality type.
As we've already mentioned, ENTPs are simply the heart of the party, the crème de la crème of the good time. Their outgoingness, high energy, and overall positive attitude attract people like a magnet and make them fall in love with this vibrant, contagious quirkiness.
The ENTP's mind is as sharp as a knife. This makes the ENTP people react quickly to every situation, which is a priceless quality to have in the comedy world, especially if you're doing stand-up comedy (we can guarantee that this is much more difficult than it seems).
The ENTP comedians can adapt quickly to the audience and base their type of humor on the people surrounding them. Whether it would be a sarcastic joke, a quick wit, or some dark, dark humor – they're capable of sensing the tone and the atmosphere and delivering exactly the show that people are waiting for.
A good example of a famous ENTP comedian is Chris Rock. Born in 1965, he's an American comedian, actor, television producer, and filmmaker. Starting his professional career as a stand-up comedian while also scoring small or supporting roles in various films, his big break became his contribution as a cast member of Saturday Night Live in the early 1990s.
The topics of Chris Rock's performances vary from family and relationships to politics and race relations. By using his impeccable sense of humor, he often tackles serious subjects and presents them through the comedy prism, so they could reach a wider audience and actually make a difference. This is a fascinating example of how the brain of an ENTP creative works – using smart and logical solutions to create the desired impact through jokes, funny stories, and relatable experiences.
Here's a list of more famous ENTP comedians:
Bill Hicks, American stand-up comedian, social critic, satirist, and musician
Bill Maher, American comedian, political commentator, and television host (Real Time with Bill Maher; Politically Incorrect)
John Stewart, American comedian, writer, producer, director, political commentator, actor, and television host (The Daily Show; The Colbert Report)
Maddox, American comedian, Internet personality, and author (The Best Page In The Universe)
Sarah Silverman, American stand-up comedian, actress, singer, and writer (The Sarah Silverman Program; Saturday Night Live)
Moshe Kasher, American stand-up comedian, writer, and actor (Problematic with Moshe Kasher; Chelsea Lately)
Andy Richter, American actor, voice actor, writer, comedian, and late-night talk show announcer (The Tonight Show on NBC)
Anthony Jeselnik, American comedian, writer, actor, and producer (Comedy Central Roast)
Ed Byrne, Irish stand-up comedian, voice-over artist, and actor (Just For Laughs)
Lauren Lapkus, American actress, voice actress, comedian, and impressionist (Orange Is The New Black)
Lewis Black, American stand-up comedian and author (The Daily Show)
Marc Maron, American stand-up comedian, podcaster, writer, and actor (The Late Show with David Letterman; Late Night with Conan O'Brien)
Martin Short, Canadian-American actor and comedian (The Santa Clause 3: The Escape Clause)
Ron White, American stand-up comedian, actor, and author (The Blue Collar Comedy Tour)
Stefan Raab, German entertainer and former television host (TV Total)
Whitney Cummings, American stand-up comedian and actress (Whitney)
Alex Edelman, American stand-up comedian (Millennial)
Andrea Savage, American actress and comedian (Step Brothers)
Billy Connolly, Scottish stand-up comedian, musician, and author (The Billy Connolly series)
ENTP Leaders
ENTPs are among the most creative and innovative leaders. They're always up for a challenge, investing all their energy and brainpower into solving problems and coming up with effective and logical solutions to difficult situations.
Since they value communication and deep analysis, the ENTP personality type is competent and knowledgeable, and will gladly argue with anyone who doesn't share the same beliefs. This is part of the reason why ENTPs flourish when it comes to logic or science.
One of the most significant ENTP leader figures is, without a doubt, Theodore Roosevelt. Being the youngest person to become President of the United States (fun fact: he was the 26th president of the United States, serving from 1901 to 1909), he was always in support of the public interest, which proved that he was a natural leader with critical thinking and ambition to make a difference. As a recognition for his constant work towards a better life for the U.S. and world citizens, he received the Nobel Prize for Peace in 1906.
Here's a list of more famous ENTP leaders:
Boris Johnson, Prime Minister of the United Kingdom and Leader of the Conservative Party since 2019
Nigel Farage, British politician and activist, serving as leader of the Brexit Party since 2019
Alexander the Great, King of the ancient Greek kingdom of Macedon and a member of the Argead dynasty
Catherine the Great, Empress of Russia
J. E. B. Stuart, United States Army officer, who later became a Confederate States Army general
Rutherford B. Hayes, the 19th president of the United States
Henry Kissinger, U.S. politician, diplomat, and geopolitical consultant
Mao Zedong, Marxist theorist, revolutionary, and the first chairman of the People's Republic of China
James A. Garfield, the 20th president of the United States
Donald Tusk, the 14th Prime Minister of Poland
Éric Dupond-Moretti, French lawyer and politician, currently serving as Minister of Justice
Other Interesting ENTPs
Despite the fact that these celebrities and important figures don't fit in any of the categories above, they've still contributed to the modern world one way or another with their incredible passion and energy. Here are some of our favorite ENTPs:
Thomas Edison, American inventor and businessman (developer of a variety of devices in a vast array of departments, such as electric power generation, mass communication, sound recording, and motion pictures)
Mark Cuban, American billionaire entrepreneur and television personality
Leonardo da Vinci, Italian painter (The Mona Lisa portrait)
Karl Lagerfeld, German creative director, fashion designer, artist, and photographer
Babe Ruth, American baseball player
Henk Ngatung, Indonesian painter and politician
ENTP Characters
Sometimes, it's easy to relate to someone's personality if you see them on the screen or read about them in a book. This is a genuine approach and, naturally, makes us fall in love with different characters based on their traits and little quirks.
Here we're going to dive deep into the world of fiction and help you understand why you love your favorite ENTP characters as much as you do. Is it because they're funny and can make you laugh easily? Or maybe because they're curious, smart, and always full of ideas? Perhaps their contagious energy and adventurous spirit reflect you personally? Whatever the reason is, you'll soon find out – just keep reading.
Read more: ENTP famous anime characters
ENTP Fictional Characters
Get to know them, so you could love them even more. The ENTP characters are always up for a laugh, and that includes laughing at themselves. They're open-minded and adventurous, and incredibly spontaneous when it comes to making plans and decisions. Challenges excite them like nothing else and give them the strength to influence and lead others… even if sometimes this means getting into trouble.
A perfect example of an ENTP character is Barney Stinson. His incredible sense of humor and ability to use self-irony even in tough moments make him one of the most loved TV personalities. With his impeccable fashion sense, catchphrases such as 'Suit up!' and 'Have you met Ted?' and even books like 'The Bro Code' and 'The Playbook', his impact on the millennial generation is truly fascinating. Always having a creative solution up his sleeve, there's no such thing as 'routine' around Barney… yes, even when he's doing simple things like sleeping, posing for pictures, or eating soup.
Without further ado, here's our list with some of the most famous ENTP fictional characters. Which one is your favorite?
Barney Stinson, How I Met Your Mother
We have just one word to describe Barney Stinson's character – iconic. A fun fact is that he's played by Neil Patrick Harris, whose personality type is also ENTP. Talking about meant to be!
Damon Salvatore, The Vampire Diaries
Like many ENTPs, Damon Salvatore is an idealist, a dreamer, and a true romantic at heart. He needs a constant intellectual challenge and is not afraid to take the extra step in order to achieve his goals.
Jack Skellington, The Nightmare Before Christmas
Jack Skellington is another popular ENTP character, and just like a typical ENTP he's constantly striving for changes and exploring the endless possibilities of the world around him.
The Joker, Batman: The Dark Knight
The Joker is usually considered a villain, but we're facing a dilemma here as he is simultaneously loved and hated. We're blaming the ENTP personality for his unique charm.
Hiro Hamada is another example of a 100% ENTP character. He's innovative and intuitive – an idealistic optimist who simply wants to change the world.
Could you love Chandler Bing even more? Similar to the case with Barney Stinson,
Chandler from Friends is played by Matthew Perry, who's also sharing the same ENTP personality type as his character in the popular sitcom.
The tenth doctor is one of the most logical fictional characters out there, and not just because he's a doctor. We're sensing a lot of ENTP personality traits here, and we absolutely love all the expressions and emotions he brings to the table.
Fleabag's character represents the perfect ENTP type – smart, funny, witty, and sarcastic. Always ready to fight for what's right, even if that means confronting the people who are the closest to her.
Rick is a classic example of an ENTP character whose brain is constantly working and the thoughts are trying to catch up on each other. Sounds quite exhausting but still has its charm, don't you agree?
Fred and George Weasley, Harry Potter series
The two charming twins are anything but ordinary. They're highly ambitious and goal-oriented, constantly full of ideas and looking for ways to make them come to life.
Annie Hall's character is always up for embracing new ideas and trying new things. A real adventurous ENTP character who we absolutely love.
Cat Grant is full of inspiration – she's strong, smart, independent, and she's also great at reading people and reacting to their thoughts and actions.
Willy Wonka, Willy Wonka and the Chocolate Factory
Willy Wonka is creative, outgoing, and has a unique approach to everything that surrounds him… a classic ENTP.
Sirius Black, Harry Potter
One of the most loved Harry Potter characters, Sirius Black is true to his ENTP personality type. He's smart, empathetic, and wants to change the world for good.
Jack Sparrow, Pirates Of The Caribbean
What a charmer! You simply cannot allow yourself to not fall in love with Jack Sparrow and his hilarious nature. Just like a typical ENTP, he's always up for a laugh and he somehow manages to escape every tough situation with exquisite finesse.
We're loving this classical addition to our ENTP fictional character list. Bugs Bunny is clever, outgoing, always outsmarting everyone through his fast mind, charming approach, and willingness to negotiate.
ENTP Disney Characters
Fascinating, charismatic, adventurous, and even unpredictable – there's no better way to describe Walt Disney's ENTP characters. There's no such thing as a boring moment when it comes to these personalities, and that's where the real magic is. Always curious and ready to jump into any adventure that comes their way, the Disney ENTPs set a great example for influential and inspirational leaders, risk-takers, and ultimate visionaries.
One of the most popular ENTP Disney characters is Aladdin. He is caring, empathetic, and means no harm, despite his thieving habits. Jumping from one adventure to another, Aladdin's endless braveness sets the tone for his heroic representation and his ability to discover, inspire, and lead. What makes us fall in love with this ENTP personality is his quick wit, irresistible charm, and do-it-all attitude – a must for every Disney protagonist.
Here's our list with some of the most popular ENTP fictional Disney characters:
Some might think of him as a thief, and others – as a real survivor. No matter what side you're on, one thing is clear – this ENTP Disney character has a lot of personalities and approaches everything with a genuine interest and a love for adventure.
Simba is one of the all-time most loved fictional characters and – surprise! – is an ENTP. His adventurous spirit, good heart, and incredible kindness help us feel a real connection to his experiences and make us fall in love with each scene.
As an ENTP personality type (even though just fictional), Jane is true to the main values and character perks of this type. She's curious, eager to learn, and is always on the lookout for new information and experiences.
With his unique way of thinking, extreme bravery, and thirst for adventures, he's one of the most loved ENTP fictional characters.
Alice, Alice In Wonderland
Alice is simply made of curiosity, creativity, and a penchant for adventure. And, just like many ENTPs, she often has trouble concentrating and gets easily distracted – a thread that's present in the entire plot of both the book and the movies.
Let's admit it – Mulan would be a relatively boring movie if it wasn't for Mushu. His quick wit and charming silliness add a lot of personality to the plot and make the viewer fall in love with it even more.
Despite the fact that he's playing the villain in the movie, there's just no way where you won't fall in love with Hades' genuine dislike of the world that surrounds him – it's simply too much fun to watch.
ENTP Fantasy Movie Characters
In full harmony with their desire to explore and their adventurous spirit, the ENTP fantasy movie characters are here to save the world… and, of course, have fun while doing it.
These ENTP personalities don't play by the rules – they create their own. Fully equipped with the knowledge, bravery, adventurousness, and leadership traits, they're real heroes and often serve as an inspiration to everyone – from their fellow movie characters to us, the people behind the screen.
An interesting ENTP fantasy movie character is Peter "Star-Lord" Quill. He's charming, clever, and courageous, loyal to his friends, and devoted to his mission. His quick wit is often one of his strongest weapons, and the ability to find a creative solution to every problem makes him a true superhero. And, just like a real ENTP, he's no stranger to taking risks, including risking his own life – all in the name of protecting the Galaxy.
Here are some of our favorite fantasy ENTPs:
Peter "Star-Lord" Quill, Guardians of the Galaxy
The infamous Star-Lord is intuitive, innovative, and really, really brave. He doesn't hesitate to take a risk, quite the opposite – he just goes for it in a heartbeat.
This ENTP character is impulsive, adventurous, and doesn't like to play it safe. Sounds familiar? A classic representative of his personality type.
Meriadoc 'Merry' Brandybuck, Lord Of The Rings
In a typical ENTP demeanor, Merry is up for anything (especially if it's a tough challenge) and is driven by curiosity and a genuine interest in the world out there.
Tony Stark's creative ideas are just endless, don't you think? He uses his brain as a real ENTP by coming up with more and more charming mischief to challenge everyone around him and, well, himself too.
Tyrion Lannister, Game Of Thrones
If we could put Tyrion Lannister on every list of outstanding movie characters, we absolutely would. Perhaps the most loved Game Of Thrones persona, he's incredible at negotiating deals, making rational decisions, and even saving his own life (multiple times).
Q plays by his own rules. His incredible brain navigates his actions and helps him come up with more and more creative ideas, with a hint of trouble.
How many of these famous ENTP people and characters did you recognize? If you've got at least five, we salute you – you know that personality pretty well.