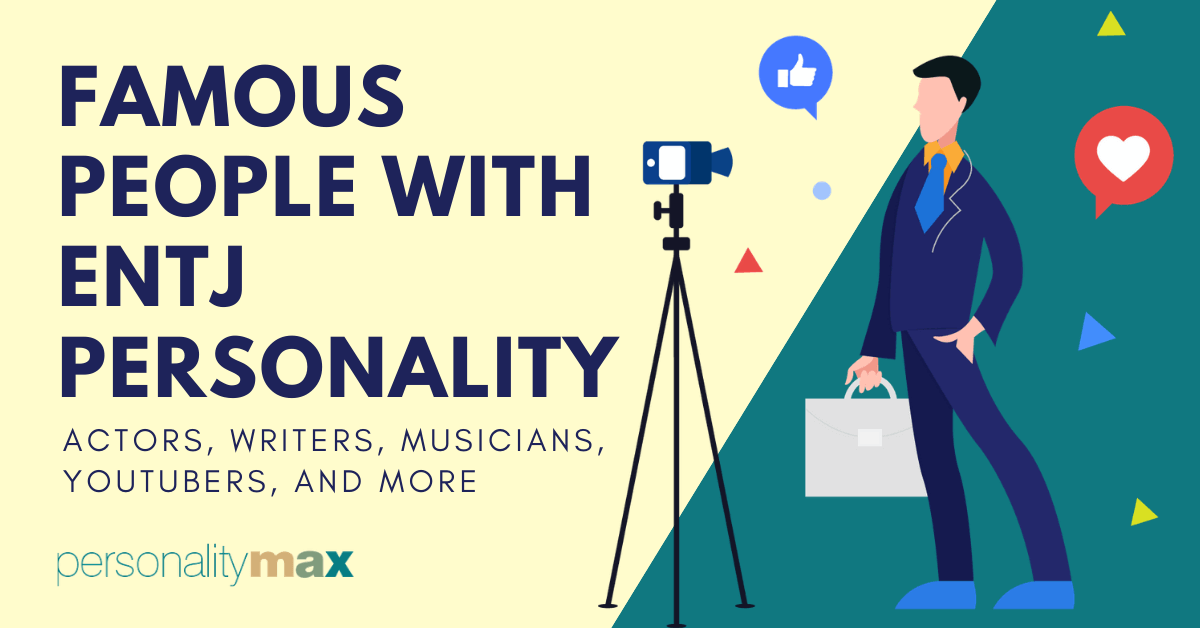 Children believe they can do anything. Feelings of discouragement and self-doubt are but a distant notion to the toddler climbing the kitchen cabinetry. As we get older, we get more pessimistic about life and stop believing we can conquer the world.
Or at least that's true for most people; ENTJs are cut from a different cloth.
ENTJs sometimes referred to as The General, are restless, confident, and ambitious. Although as they grow up, some of their problems grow with them, their attitude toward life doesn't change. ENTJs like to dream big. And they know exactly how to reach their goals.
ENTJs are masters of their own faith and more often than not they choose a road full of challenges and milestones. Which they usually overcome by slowly climbing the ladder of success. They believe that competition drives progress and usually end up in leadership positions. If you're reading this and you recognize some of these traits in yourself, then you're probably an ENTJ.
ENTJs also know how to handle the spotlight. Many well-known writers, talented actors, and even internet personalities are identified to be the ENTJ type. Although ENTJs are one of the rarest personality types, it seems like they want to make themselves known. In this article, we'll cover some of the most popular ENTJ celebrities.
What's more, this type is also no stranger to the fictional world, and some of your favorite characters likely also fall within the ENTJ personality type. From Disney princesses to Game of Thrones villains, it seems like The General knows how to conquer our hearts.
Keep reading to find out what Cersei Lannister, Joe Biden, and Jim Carrey have in common!
ENTJ Celebrities
The fact that so many celebrities are believed to be ENTJs proves that their charisma, coupled with their ability to step up to any challenge, can take them far. ENTJs know how to handle the spotlight and they do it with grace, confidence, and nerve. So without further ado let's dive into this epic list of ENTJ celebrities.
ENTJ Actors and Filmmakers
Many ENTJs are drawn to acting. Their energetic and social personality makes them feel comfortable when all eyes are directed toward them. They're also one of the most ambitious personalities. Therefore, if they set their mind on something, they'll most certainly reach their goals. And if they make it their mission to become good at acting it's possible that they would become one of the best in the industry.
ENTJs not only know how to handle the spotlight but they actually prefer being under it. Their Extroverted personality helps them channel their energy toward other people, and they thrive on human interaction. Acting is one of the best career paths that an ENTJ person can choose to follow. Let's discuss some of the most famous ENTJ actors and filmmakers.
With his positive and idealistic outlook on life, Jim Carrey makes a classic ENTJ. No matter the character or the script, Carrey brings his talent to the table. Although ENTJs are known as the CEO or Entrepreneur type, Jim Carrey is the perfect example of how this type can be whoever they want. His Introverted Intuition is what engages audiences' minds and allows them to tune in with his restless character. What flames this ENTJ's ego is his love of performing. He started off as a comedy actor, making people laugh. Classics like The Mask and Ace Ventura kept people at the edge of their seats. However, lately, he's shown a shift in attitude. Some might call it insanity. Others refer to it as enlightenment. It sometimes looks like he's lost control of his own emotions, but the truth is actually the opposite – he's more in tune with his ego than ever. As he likes to say, 'I love playing ego and insanity combined.' He's fully aware of his behavior and how people perceive him. But he doesn't seem to want to hide this side of himself. He's staying true to his beliefs and he likes to practice what he preaches.
"I have no limits. I cannot be contained because I am the container."
Beautiful, talented, and charismatic – those are just some of Emma Stone's best qualities. She started acting when she was little but got her big break down the road. She always wanted to become an actress and her classical ENTJ determination got her far. Now she's one of the most famous Hollywood actresses and the winner of numerous awards. But the story of how she started acting professionally is a classical case of the ENTJ approach to life. As we already mentioned ENTJs like to work with facts, and if they have a goal in mind they'll probably conduct thorough research, making up a realistic plan on how to reach their objective. So, when Stone was still in her teenage years, she made a PowerPoint presentation entitled 'Project Hollywood.' The target – her parents. That was her way of persuading them to allow her to drop out of school and move to LA to become a professional actress. Shortly after that, she started auditioning and the rest is history.
ENTJs are known for their ability to conceptualize and theorize, transforming their dreams into possibilities and their possibilities into plans. By going through thick and thin George Clooney worked his way to the top as one of the most well-known actors in Hollywood. However, he's not only a talented actor. Clooney naturally transitioned to his role of filmmaker and director. After he realized that directing is much more satisfying for him than acting, he made up a plan on how to reach his goal. He managed to apply his theoretical knowledge about film and started making movies, regardless of people's expectations and doubts. ENTJs are also known for standing up for what they believe in. By realizing their influence, they often challenge people's actions and assertions. Clooney used his name as a well-known celebrity and channeled his energy to support his political and humanitarian views. He not only fights for gay rights but also aggressively supported the resolution of the Darfur conflict.
Some other well known ENTJ actors and filmmakers are:
Reese Witherspoon, American actress (Legally Blonde; Cruel Intentions)
Oprah Winfrey, American television producer, actress (The Color Purple; A Wrinkle in Time, Beloved)
Kate Winslet, British actress (Titanic; The Reader; Revolutionary Road)
Tea Leoni, American actress, producer (The Family Man; Bad Boys; Deep Impact)
Katharine Hepburn, American actress (The Philadelphia Story; The African Queen; Bringing Up Baby)
Helena Bonham Carter, British actress (Harry Potter and the Order of the Phoenix, Sweeney Todd: The Demon Barber of Fleet Street; Dark Shadows)
John Cusack, American actor, producer (1408, Con Air; Say Anything)
Michael Douglas, American actor, producer (Fatal Attraction; Ant-Man; Wall Street)
Charlize Theron, South African-American actress, producer (Mad Max: Fury Road; Atomic Blonde; The Old Guard)
Cobie Smulders, Canadian-American actress (How I Met Your Mother; The Avengers; Spider-Man: Far From home)
Patrick Stewart, British actor, director, producer (X-men: Days of Future Past, Logan, Star Trek Nemesis)
Salma Hayek, Mexican-American actress, producer (Frida, Desperado, Grown Ups) 
Harrison Ford, American actor (Indiana Jones and the Last Crusade, Blade Runner, Star Wars: Episode IV A New Hope)
Dwayne Johnson, American wrestler and actor (Jumanji: Welcome to the Jungle; Rampage; Moana)
Matt Damon, American actor (The Martian; Jason Bourne; Good Will Hunting)
Jamie Foxx, American comedian and actor (Django Unchained; Ray; Just Mercy)
David Letterman, American comedian and talk show host (Private Parts; Fast Men; Late Show with David Letterman)
Steve Buscemi, American actor (The Big Lebowski; Mr. Deeds; The Death of Stalin) 
Peter Sellers, English actor (The Pink Panther; Dr. Strangelove; Being there)
Penn Jillette, American magician and actor (Director's Cut; Aristocrats; Hackers)
William H. Macy, American actor (Boogie Nights; Wild Hogs; Air Force One)
Candace Bergen, American actress (Book Club; Let Them Talk; Soldier Blue)
Richard Dean Anderson, American actor (Stargate: Continuum; In the Eyes of a Stranger; Beyond Betrayal)
ENTJ Writers
The ENTJ writing style has been described as 'confident clarity.' ENTJs are natural strategists and structure their ideas carefully before they start writing. But they also leave plenty of space for creativity. It's common among ENTJ writers to focus on the future and how it should be shaped according to their standards. ENTJ writers use writing as a vehicle to communicate their views and beliefs to the world. Here are some famous ENTJ authors and writers.
George Bernard Shaw was a leading dramatist of his time. His affinity to the theater and his unique writing style contributed more than sixty plays to English literature. He also had great leadership qualities which are typical for the ENTJ personality type. He had influence in the fields of theater, politics, and culture. As a classical ENTJ, he expressed his views in his plays in a structured, straightforward manner. Among his numerous awards, he received a Nobel Prize for Literature for his dramas.
Sherly Sandberg has been described as the voice of the working woman. She essentially argues that women have been sabotaged in the workplace, and includes all the ways they sabotage themselves. Her book 'Lean In' has also been referred to as a cultural phenomenon. It describes all the challenges and barriers that women face in today's workforce. She also focuses on the leadership gap explaining why women must be given more leadership positions. She fights for equality for all the women around the globe and her voice has inspired many of them to step up and change their attitude toward their careers. As a typical ENTJ, Sandberg suggests structured ways and tips on how to transform the modern-day workplace.
Here are some more famous ENTJ writers and authors:
Robert James Waller, American author (The Bridges of Madison County; A Thousand Country Roads)
Jerry Seinfeld, American comedian, actor, writer, and producer (Is This Anything?; SeinLanguage)
Steve Martin, American actor, comedian, writer (Born Standing Up; Shopgirl)
ENTJ Musicians
ENTJs are one of the rarest personality types in the population and are correspondingly rare among musicians. ENTJs are rational, logical, and independent. They like to dominate and take charge as they're good at creating and executing a vision. In other words, they're able to transform ideas into reality. That's why when it comes to the music business they're more likely to become managers and executives. But ENTJ musicians are also rulebreakers and are known for making bold moves. They're likely to experience success at an early age due to the fact that they're naturally ambitious and passionate. They know how to reach their goals and they will fight for their position until the end.
The music industry is built on people's desire to consume emotion through sound. But many ENTJ musicians have been described as unable to express feelings or emotions, which often leads to the conclusion that they aren't genuine. This is a common misconception since ENTJs are far from heartless. They just express their fragile side of their personality in a systematic and direct way. Their realistic temperament coupled with their restless need to improve makes them some of the world's greatest musicians. Let's take a look at some of them.
As a pop icon, Adele is known for her bold personality and unique talent. Similar to most ENTJs, the British singer finds it hard to express her emotions in her personal life. However, her way of communicating her vulnerable side to the world is through her music. Her hit songs 'Someone Like You' and 'Hello' have spoken to everyone who's ever gone through a heartbreak. Those classics have become an anthem for all who have met the harsh reality of losing a loved one. However, Adele isn't just an artist. She is also a proud feminist and she publicly fights for social justice. At the beginning of her career, she was judged for her weight, but instead of trying to fit into society's standards, she embraces the fact that she's different. She stands up for anyone who has been body-shamed and as a true leader, she has changed people's perception of body image. As a true ENTJ, she uses her power to raise awareness about the things that matter to her the most.
Here are some more famous ENTJ musicians:
Gene Simmons (KISS), American singer-songwriter (Gene Simmons; Asshole)
Paul Stanley (KISS), American singer-songwriter (Paul Stanley; Live to Win)
Paul Anka, Canadian-American singer-songwriter (Rock Swings; Duets)
Lita Ford, British guitarist, singer-songwriter (Out for Blood; Lita)
Jennifer Batten, American guitarist (Above Below and Beyond; Whatever)
Yngwie Malmsteen, Sweedish guitarist, songwriter (Rising Force; Trilogy)
Tom Jones, Welsh singer (Help Yourself; Reload)
Till Lindemann (Rammstein), German singer-songwriter (Mutter; Liebe ist für alle da)
Ice-T, American rapper, songwriter (Power; Rhyme Pays)
Huey Lewis, American singer-songwriter (Sports; Fore!)
Mae West, American actress, singer (Way Out West; Wild Christmas)
Kara Dioguardi, American songwriter (You Me & Us; Escape)
Billy Joel, American singer-songwriter (The Stranger; Glass Houses)
Adam Levine (Maroon 5), American singer-songwriter (V; Overexposed)
Steve Vai, American guitarist, composer, singer (Crossroads; Sex & Religion)
Steve Miller, American singer, guitarist (Book of Dreams; Sailor)
David Geffen, American producer (If I Could Only Remember My Name; A Star Is Bought)
Roy Ashen, American performer, producer (Sugar and gasoline; Eclipse)
Bruce Dickinson (Iron Maiden), British singer-songwriter (Skunkworks; Fear of the Dark)
Chad Kroeger, Canadian singer-songwriter (Silver Side Up; Triple Sided-Coin)
Marc Bolan, British singer-songwriter (The Slider, Electric warrior)
ENTJ Leaders and Politicians
ENTJs are natural born leaders. Even if they don't end up in leadership positions professionally, they're definitely the boss in their personal life. They like to be masters of their own fate and they constantly work toward reaching their goals. However, more often than not their tendency to take the bull by the horns makes them great CEOs, managers, and politicians.
ENTJs have a distinct leadership style. They're strategic, motivated, and organized and know how to get things done. They immediately notice inefficiency and are quick to formulate logical solutions. They're the best at conceptualizing and developing long-range plans that would help them accomplish their vision. Although ENTJ is one of the rarest personality types, many of the world leaders have been recognized to be ENTJs. Let's take a look at some of them:
Margaret Thatcher is the archetype of the ENTJ personality type. She's not only known for having been the first woman prime minister in Europe, but also for her unique leadership style, charisma, passion, and determination. She was a direct, logical, and just leader who was always ready to fight for her beliefs. Regardless of how many times her authority was questioned, she never caved to peer pressure. Thatcher goes by the motto:
'You might have to fight a battle more than once to win it.' 
Thatcher is also a game-changer. She managed to transform the British economy from statism to liberalism. She always strived to encourage growth and development in her country and her people. She never backed down from a challenge and regardless of whether or not you share her views, you have to give it to her – she was one hell of a fighter.
As the current President of the United States, Joe Biden has control over some of the most important political matters in the country. As a leader, he thinks in a linear, numeric way, and although he makes decisions in a rational and logical way he knows how to trust his gut. Biden is an intellectual human being. He's analytical and balanced and believes that progress goes hand in hand with risk. As a typical ENTJ Biden also relies on communication – he knows that direct conversation is key to efficient performance. He also likes to read people – he wants to know their motivations and systematically creates his perception of them based on what makes them tick. Similar to most ENTJs, leadership comes naturally to him and he feels his best when he's the one to guide the parade.
ENTJs have a developed sense of entrepreneurship. They're able to take a simple idea and transform it into a realistic plan. But it doesn't stop there – ENTJs stay consistent with their plans and don't back down until they've achieved whatever they're fighting for. But they're not robots – they want to know how people experience their model and they try to optimize their experience to the fullest.
In the 70s Apple was nothing but an idea, started out in Steve Jobs' garage. Later, the same year around 200 Apple I computers were sold. But Jobs didn't stop there. In a typical ENTJ fashion, he was looking for ways to grow the company and to present his innovative vision to the world. A few years later the company changed the way people viewed computers.
Jobs was not only great at generating ideas – he was the best at making them a reality. He's the perfect example of what happens to an idea if you take active action to materialize it. As a leader Jobs had a meticulous eye for detail and surrounded himself with like-minded people to follow his lead.
Here are some more ENTJ leaders and politicians:
Joseph Stalin, Soviet politician and leader
Bill Gates, co-founder of Microsoft Corporation, business magnate, software developer
Napoleon Bonaparte, French statesman and military leader
Franklin D. Roosevelt, former President of the U.S.
Ronald Reagan, former President of the U.S
Julius Caesar, Roman general and statesman
Richard Nixon, former President of the U.S.
Winston Churchill, Prime Minister and statesman of U.K.
Elizabeth I, Queen of England and Ireland
Angela Merkel, Chancellor of Germany
Martin Luther King Jr., Baptist minister, spokesperson, and leader
Nelson Mandela, President of South Africa
Mustafa Kemal Atatürk, founding father of the Republic of Turkey, revolutionary statesman, field marshal
Charles de Gaulle, French army officer and statesman
Alexander Hamilton, U.S statesman, politician
Aung San Suu Kyi, Nobel Peace Prize laureate, politician, and diplomat
Dick Cheney, former Vice president of the U.S.
Al Gore, former Vice president of the U.S.
Jeb Bush, U.S politician and Governor of Florida
Bernie Sanders, U.S. politician and junior senator
Nancy Pelosi, U.S politician, Speaker of the United States House of Representatives
ENTJ YouTubers
YouTube is a platform where anybody can find their place. It doesn't matter what kind of community you belong to, you can find fellow YouTubers that share your interests, beliefs, and aspirations. The reason why ENTJs choose YouTube as a platform for expressing their opinions is that they can do so verbally. ENTJs are great at expressing their opinions in a direct and systematic way. By creating videos where they're free to communicate their values to the masses, ENTJs are masters of their own content. Here's a list of some of the most popular ENTJ YouTubers:
LinusTechTips, educational consumer technology videos
Philip Defranco, news commentator, vlogger
Safiya Nygaard, lifestyle vlogger
Boyinaband, musician, rapper, songwriter, and comedic vlogger
KSI, vlogger, rapper, actor, and boxer
Sargon of Akkad, British news vlogger
Atheism-Is-Unstoppable, political vlogs
AaronClarey, lifestyle vlogger, economist
ENTJ Fictional Characters
We can apply the same personality type systems to determine the personalities of fictional characters as well. Some of the most iconic and intriguing fictional characters from books, movies, tv shows, and anime have been suggested to be ENTJs. They all share similar attitudes and behaviors and it's interesting to observe their development throughout their storylines. This gives us a full overview of not only this type's strengths and weaknesses but also gives us insights into how ENTJs act in different situations. So without further ado let's dive into this epic list of ENTJ characters.
Popular ENTJ Characters
Hate it or love it – South Park is one of the most popular cartoons for adults out there. This controversial production started in the late 90s and it continues to air new episodes to this day. Season after season, South Park is constantly raising eyebrows and leaving audiences with a mixture of emotions. Some find it funny and authentic, others think it's offensive and far from entertaining. Probably the most iconic character in South Park is the nine-year-old Eric Cartman. As a typical ENTJ Cartman takes charge of any situation and rapidly organizes everyone around him to work toward his objective. He knows exactly what he wants and he knows how to achieve it. He's not the best at considering others' emotions and he finds it hard to understand why some aren't okay with taking the blame for him. Cartman is a great public speaker with the ability to manipulate people to his will at any given time. Although his intentions aren't always pure he sometimes uses his authority for the greater good.
Barney Stinson, How I Met Your Mother
Even if you haven't watched the TV sitcom How I Met Your Mother, you still probably know who Barney Stinson is. Barney is an explorer of the world of possibilities. He's self-confident, positive, adventurous and he's extremely extroverted. When people first meet Barney they are instantly attracted to his charisma and magnetism. Although it's unnoticeable at first, he has deeply rooted self-confidence issues. But he hesitates to ignore those issues, so, as the show evolves even Barney himself starts to believe that they were never there. He was going with the rule: "Fake it till you make it'' and, well, he made it. But did he really?
Barney prefers to be seen as the shallow-minded party animal whose highlight of the week is the hook-up with a girl at the local bar. But the truth is lightyears away from that. He's actually an emotional and smart individual who developed a defense mechanism as a result of a trauma. A typical ENTJ would react the same way if something bad happened to them. Their inability to open up to people emotionally often results in them having to deal with whatever they're going through alone. But ENTJs (Barney included) are often stronger than they realize. After all, for them life is simple:
'When I get sad I stop being sad and I become awesome instead'
Bernadette Rostenkowski, The Big Bang Theory
We first meet Bernadette when she works in the Cheesecake Factory with Penny, while she's still trying to get her Ph.D. in microbiology. She's a small, charismatic, and ambitious woman who knows exactly what she wants in life. She's building her career as a microbiologist and she knows precisely what she wants out of her relationship with Howard. In the end, she gets what she wants in any aspect of her life. Not only did she become a successful scientist but she also managed to convince Howard to move out from his mom's house! Her ability to create and follow her plans is typical ENTJ behavior.
Blair Waldorf, Gossip Girl 
Blair Waldorf is an absolute diva. From birth, she has been commanding her rich parents, friends, and even her housekeeper Dorota. She's also incredibly determined. Waldorf is in tune with her inner self. She knows exactly what she wants in life and she has a precise plan on how to achieve her goals. Her appetite for good, coupled with her exceptional leadership skills, makes her unstoppable. Her ENTJ qualities are heavily expressed when her authority has been threatened. She knows how to stand up for herself and she's skilled at predicting the consequences of her actions.
Here's a list of some more popular ENTJ characters:
Stewie Griffin, Family Guy
Frank Costello, The Departed
Ari Gold, Entourage
Hatsumomo, Memoirs of a Geisha
President Snow, The Hunger Games
Gale Hawthorne, The Hunger Games
Johanna Mason, The Hunger Games
Miranda Priestly, The Devil Wears Prada
Irene Adler, Sherlock Holmes
Edward Rochester, Jane Eyre
Princess Bubblegum, Adventure time
Nyssa al Ghul, Arrow
Azula, Avatar: The Last Airbender
Sokka, Avatar: The Last Airbender
Annie Edison, Community
Dr. Harrison Wells, Flash
Fish Mooney, Gotham
Princess Leia, Star Wars
Blossom, The Powerpuff Girls
ENTJ Disney Characters
The universe of Disney is the land of wonders where all kinds of characters come together in a mesmerizing blend of personalities. Many Disney characters are also ENTJs. Let's explore how this determined and self-directed type shapes some of your favorite Disney storylines.
Tiana, The Princess And The Frog
Princesses have long been stigmatized as fragile, sensitive beings with no control over their emotions, waiting for the prince to save them. Well, not all of them. Tiana breaks all the stereotypes by being a strong, independent, rational thinker, who prefers to rely on reason rather than feelings when it comes to decision making. She's a classical case of an ENTJ woman. Tiana is incredibly opportunistic, throwing herself into any situation in the name of achieving her goals. Although she could be reckless at times, her actions have been carefully planned and they ultimately lead to her fulfilling her dream. Even though she tends to be bossy, she places herself as a just leader. If that doesn't scream ENTJ to you, then I don't know what does.
Here are some more ENTJ Disney characters:
Marie, Disney's Aristocats
Princess Kida, Atlantis
Edna, The Incredibles
Woody, Toy Story
Nala, The Lion King
The Beast, Beauty And The Beast
Governor Ratcliffe, Disney's Pocahontas
ENTJ Anime Characters
ENTJs are no strangers to the anime world as well. This pragmatic and logical type makes up some of the most famous anime characters. Let's take a look at some of them.
Yami Yugi, Yu-Gi-Oh!
As a typical ENTJ, Yugi might seem cold and ruthless, and even insensitive. But his behavior is not rootless. It's all in the name of the bigger cause. He knows how to reach his objectives and he'll bow down to no one. As the series evolves we see the bigger picture. Yugi's intentions are based on his sense of justice. He starts expressing compassion and kindness and at the end of the day he's just trying his best to be the best leader he can be.
Katsuki Bakugo, My Hero Academia
Bukago is incredibly outgoing and prefers to speak his mind. At the beginning of the series, he's portrayed as arrogant and aggressive. He has been bullied at a young age which results in irrational behavior in the future. However, as he grows older he goes through several personality changes, which is typical for ENTJs. Bukago has the ability to look at things (including his own attitude) objectively and he can target problematic patterns. Instead of accepting the reality that he's just a 'bad person' he tries to improve himself. He gradually changes to a more empathetic character and he's able to accept his defeats and learn from them. Another typical ENTJ quality that we find in this pragmatic character is his thirst for victory. If he puts his mind to something he can use his intelligence for the greater good.
See more famous ENTJ anime characters here.
ENTJ Villains
Although ENTJs rarely express pure cruelty, they can be perceived as heartless and insensitive when they feel that they have been threatened. They're able to fight for what's theirs, disregarding all consequences. ENTJs are confident and rarely doubt their actions. That's why in their worst form this pragmatic, logical, and ambitious type can also shape some of the most vicious fictional villains. Let's take a look at some of the most famous ENTJ fictional villains.
Sauron, The Lord of the Rings
We can all agree that Sauron is one of the most hated fictional characters. Unlike most ENTJs, he uses his power for destruction and his motives are far from pure. His obsession with control and domination blur his vision separating him from the bigger picture. As a typical ENTJ, he's a strategist and a planner. The fact that he's evil and cruel doesn't mean he's chaotic in his behavior. His carefully constructed plan to take over all lands in Middle-Earth. He uses vast knowledge of magic to achieve his goals in a systematic way. Although we're glad that he didn't succeed we have got to give it to him – he was a hell of a fighter.
Anakin Skywalker, Star Wars
Most ENTJs know how to find effective solutions to any problems. This side of their personality combined with their extroverted nature makes them incredible leaders. That's exactly the case with Anakin Skywalker. He's a brilliant general during the Clone Wars and he intuitively continues the Jedi Order tradition. However, like many ENTJs, he has strong emotions but he isn't sure what to do with them. This leads to an inability to handle the dark side of himself, resulting in an unstable mentality. His inability to question himself or the choices he has made make him one of the most vicious fictional villains.
Tom Riddle/Lord Voldemort, Harry Potter
Voldemort, like most ENTJs, is an action-oriented individual. He expresses his feelings through his actions rather than through his words. His ability to organize and manipulate others served him well on his journey to conquer the world. His ENTJ qualities are expressed the most through his plan to preserve his soul and essentially make him immortal. As he created the 8 Horcruxes, each containing a piece of his soul, he proved that he's a classical case of ENTJ. Although the war didn't go as he planned, he was close to suppressing the entire wizarding world.
Here are some more ENTJ fictional villains:
Draco Malfoy, Harry Potter
Sinestro, Green Lantern
Black Mask, Batman
Gorilla Grodd, The Flash
Darkseid, Superman's Pal Jimmy Olsen
Ra's Al Ghul, Batman
General Zod, Superman
Two-Face, Detective Comics
Brainiac, Superman
Maxwell Lord, Justice League
Lex Luthor, Batman
Regina Mills/Evil Queen, Once Upon a Time
King Ecbert, Vikings
Crowley, Supernatural
Madalena from, Galavant
Dr. Bedelia Du Maurier, Hannibal
ENTJ Game of Thrones Characters
Regardless of the circumstances, Cersei will find a way to stay in command, eliminating anyone and anything that stands between her and her authority. Ruthless, fierce, and bold, this true ENTJ deeply desires to be in power. Even though she truly loves her children, her priorities are far from being a humble wife and mother. She's detached from all other relationships and her impatience toward anyone who disagrees with her makes her incredibly dangerous to be around. Although most ENTJs have the best interest at heart, all Cersei truly wants is to be the director of the show.
Here are some more Game of Thrones ENTJs:
Tywin Lannister, House Lannister
Viserys Targaryen, House Targaryen
Petyr Baelish, Baelish
Olenna Tyrell, House Tyrell
The Blackfish, Tully